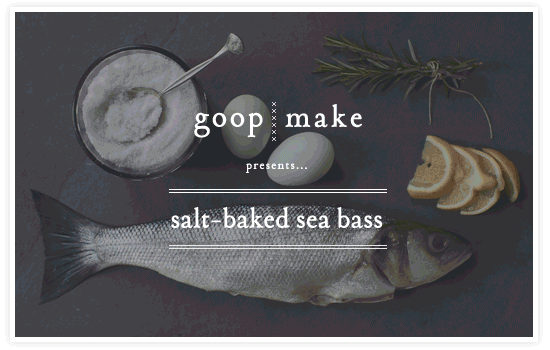 Salt-baking the sea bass makes for an impressive presentation and also keeps the fish super moist. Serve with our crispy lemon potatoes, and some good olive oil, lemon and parsley to garnish.
1. Pre-heat oven to 400°F.
2. In a large bowl, whip egg whites until foamy. Slowly, whisk in the salt, using your hands to incorporate when the mixture becomes too thick to whisk.
3. Arrange a thin layer of the salt mixture on a baking sheet for each whole fish, just long and wide enough to fit the fish.
4. Lay the fish on top of the salt and stuff cavity with lemon slices and rosemary sprigs. Top fish with remaining salt mixture, patting down with your hands to form a sealed, smooth mound, ensuring the fish is completely enclosed by the salt, including the head and tail. (The element of surprise is one of the best things about this dish).
5. Bake for 18-20 minutes. Let rest for five.
6. Present to guests as is.
7. To serve, crack the shell with the back of a spoon, peel away the salt and debone. Drizzle with sea salt, pepper, good quality extra virgin olive oil, lemon and parsley.
Originally featured in A Holiday Feast