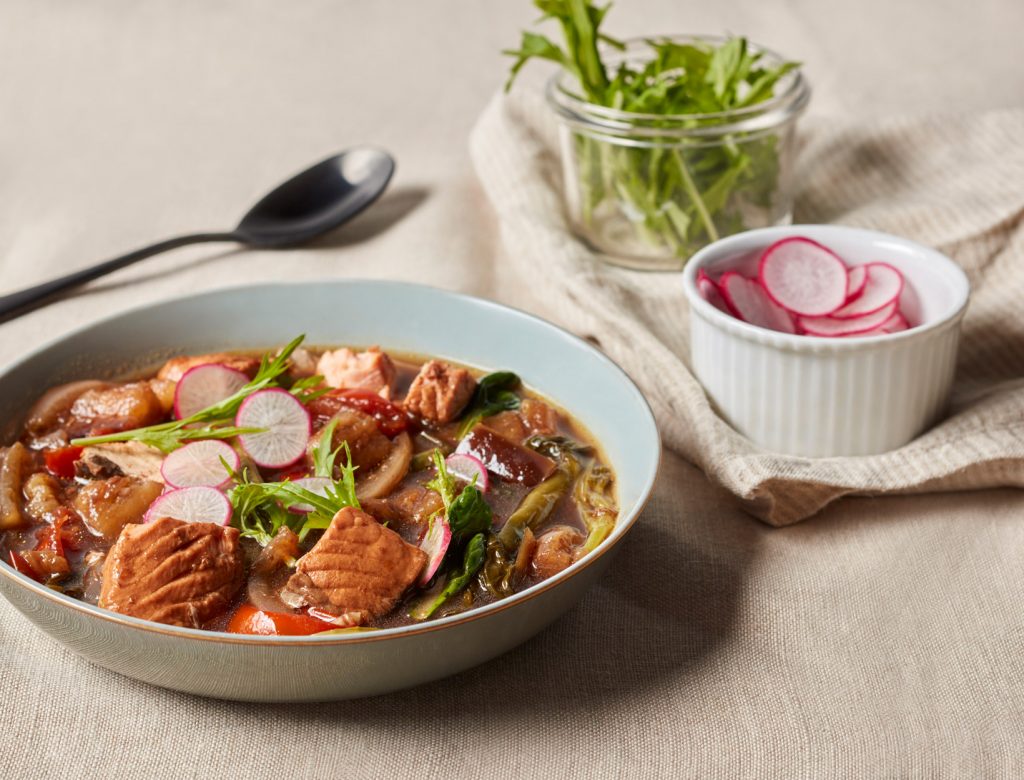 Salmon Sinigang
Don't get hung up on the pronunciation of "sinigang"—this tangy, savory Filipino soup is perfect for when you're under the weather. Toss everything together in one pot and you end up with a colorful bowl of delicious soup. To make it heartier, add your favorite rice or quinoa.
4 wild salmon fillets chopped into large chunks, or your choice of fish
5 cups water, quality vegetable/fish/chicken stock or bone broth
1 tablespoon coconut oil
1 large red onion, finely sliced
4 fat garlic cloves, finely diced
fresh root ginger, 2-inch piece thinly sliced or finely diced
20 cherry tomatoes, halved, or 5 medium tomatoes, quartered
2-3 tablespoons tamarind paste (to taste, depending on strength of the paste)
2 tablespoons fish sauce (or to taste)
2 ½ cups green beans, tops trimmed and halved, or a mix of green beans and broccolini or asparagus
1 medium eggplant cut into bite-sized pieces, or 1 zucchini
3 cups bok choi, leaves and stalks roughly chopped, or other greens (Look out for Asian greens like Mizuna if you have a local Asian grocery store nearby.)
1 pound spinach, or other leafy greens
Sea salt and a generous pinch of black or white pepper
Chili flakes (optional) or a whole chili simmered in the broth
Suggested garnishes:
finley sliced daikon radish
cooked quinoa
fresh chili
fresh cilantro
1. In a large saucepan sauté the onions in the oil for 3 minutes, then add the garlic and ginger.
2. Add the eggplant, tomatoes, green beans, tamarind paste, fish sauce, and salt and pepper. Add the broth and bring to a strong simmer then turn down to a medium simmer for 5 minutes
3. Add the salmon and greens (not the spinach) and simmer for 5 minutes until the salmon is just cooked through and taste for seasoning, adding more tamarind paste for a more sour flavor, if desired.
4. Stir in the spinach for 1 final minute then take off the heat and serve up each bowl.
MELISSA SAYS: "I like to add a big scoop of cooked quinoa to my bowl and top with my sinigang with some chili flakes and crunchy radish."
Originally featured in Feel-Better Foods from Around the World