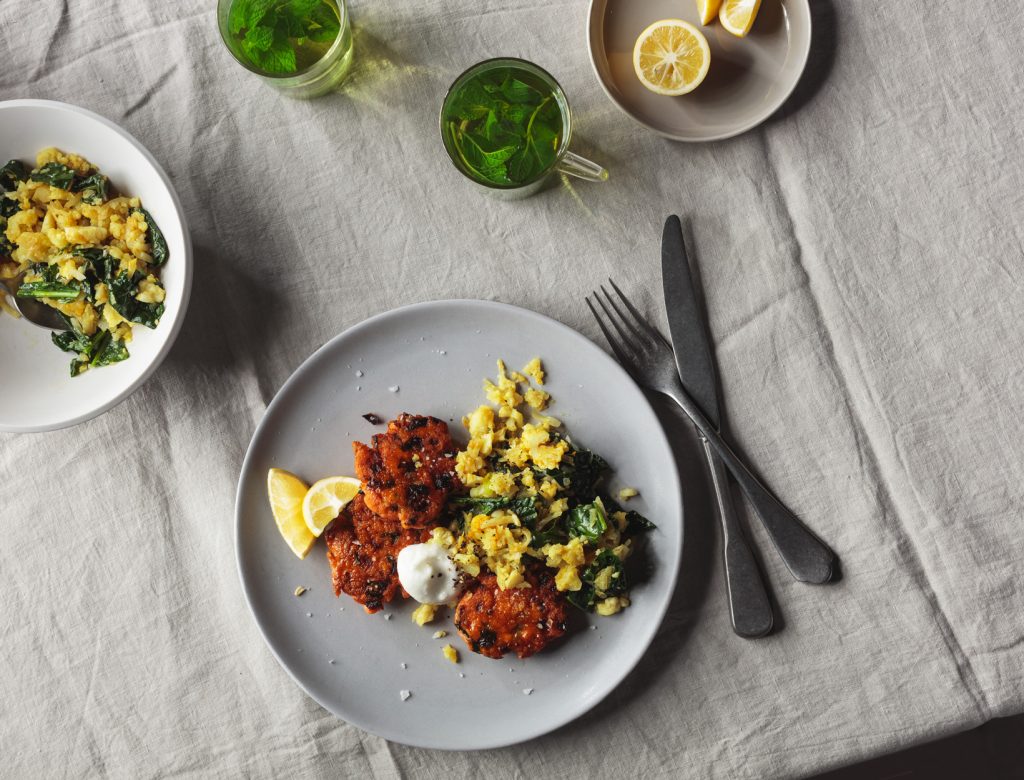 Salmon Patties with Turmeric Cauliflower Rice
These patties cook super quickly, and the parsley, lemon, and red onion make the perfect match for the turmeric-y cauliflower rice. The leftovers hold up well and are great on top of a bed of arugula with a little lemon and olive oil.
1. Place the salmon pieces in the freezer for about 10 minutes, until very cold but not frozen. In batches, add the salmon to the bowl of a food processor and pulse until it's well minced but stop before it becomes a paste (about 10 1-second pulses). Add this to a bowl with the parsley, onion, salt, and lemon zest. Use a fork, spatula, or your hands to thoroughly incorporate all the ingredients. Either cook right away or cover and refrigerate for up to 2 days.
2. Form the salmon mixture into small slider-size patties (about 2 heaping tablespoons each). Heat the olive oil in a nonstick pan over medium-high heat. Add the patties and cook for about 1 to 2 minutes on each side, until golden brown on the outside and opaque and cooked through on the inside.
3. While the patties are cooking, quickly stir-fry the cauliflower rice. Heat the oil in a wok over high heat. Add the kale and cook for about 45 seconds, until just wilted. Then add the cauliflower, turmeric, and salt. Cook for 2 to 3 minutes, stirring constantly.
4. Serve the salmon patties alongside the cauliflower rice with a dollop of toum and lemon wedges.
Originally featured in The Annual goop Detox 2019