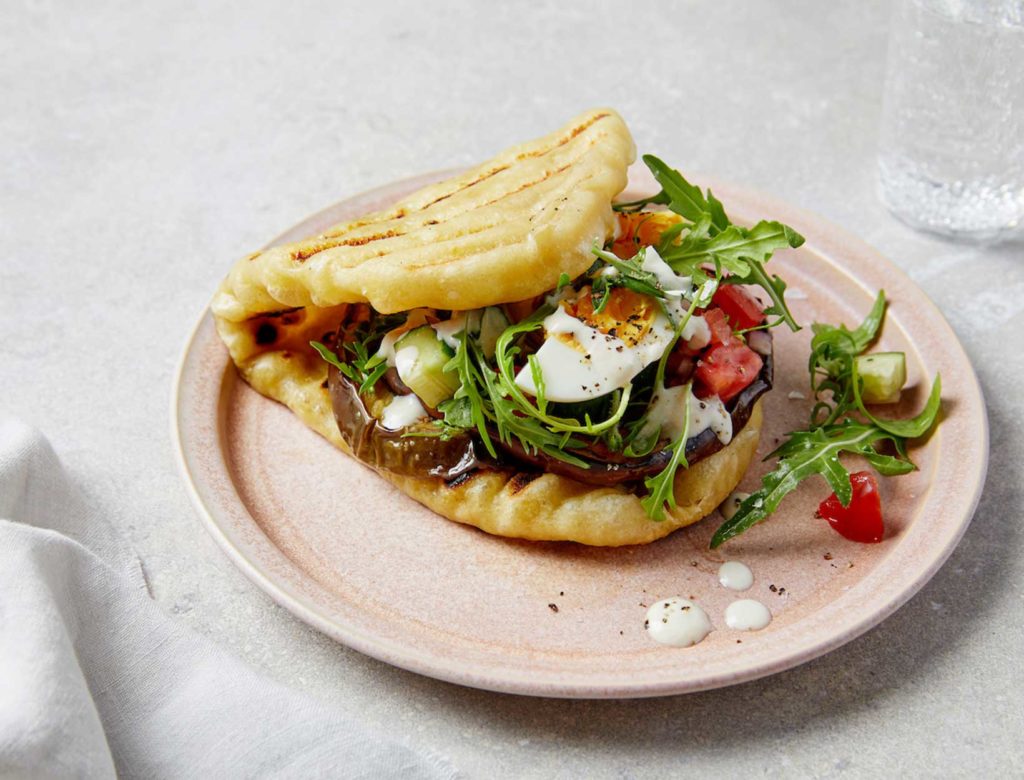 The reason this Israeli-style sandwich is so satisfying is because it's got all the flavors, textures, and temperatures: cool yogurt, rich tahini, spicy harissa, hot charred bread and eggplant, crunchy cucumber, juicy tomatoes, bright lemon, and a mess of herbs. There's not a bad bite in there.
1. First, divide the pizza dough into 4 portions. Form each portion into a ball and roll into oblong-shaped flatbreads about ¼ inch thick. Set aside.
2. Lay the eggplant rounds on a sheet tray, drizzle olive oil all over them, and liberally season with kosher salt, being sure to turn them over so all sides are evenly oiled and seasoned. Set aside.
3. Next combine the cucumbers, onion, tomatoes, and herbs with the olive oil, lemon juice, and a generous pinch of salt. Set aside.
4. Preheat a grill or grill pan to medium-high heat. Once hot, add the eggplants to the grill. Cook for about 3 to 5 minutes on each side, until charred and tender in the center. While the eggplant is cooking, rub a little olive oil all over the flatbreads to prevent sticking and place on the grill. Put them on the grill and cook for a few minutes on each side, until they've puffed up a bit and developed nice grill marks.
5. To assemble the sandwiches, place 2 rounds of eggplant on 1 side of the oblong flatbread. Add 1 of the quartered 7-minute eggs, a scoop of the cucumber-tomato salad, and a small handful of arugula, then drizzle tahini dressing over the top. Fold the flatbread in half to eat your sandwich.
Originally featured in Hacks to Make Homemade Dinners Better with Store-Bought Ingredients