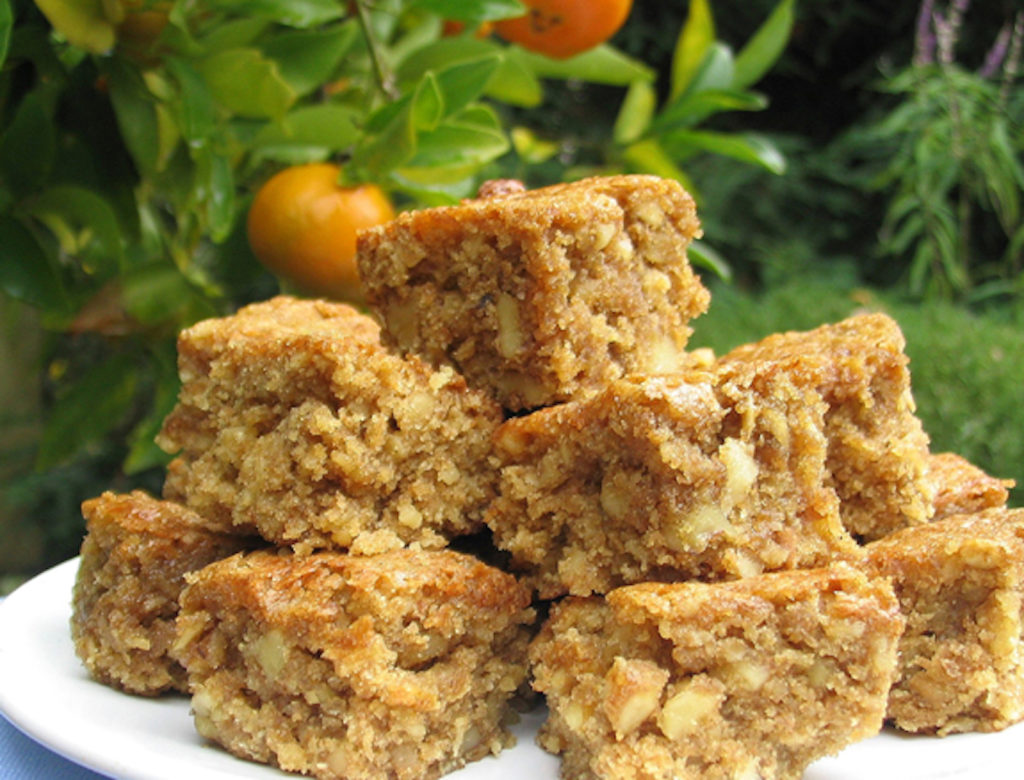 Rye Happies
"This is one of my all-time favorite recipes. I loved Rye Happies as a kid, and then made them for my children. They're rich in healthy omega-3 fat from the walnuts, and with polyunsaturated fats, phytosterols, and plant fibers, this recipe could have been designed for cholesterol-lowering. Make some when it's your turn to bring snacks for the soccer team. Although brown sugar is only a little better than white sugar in terms of nutrient content, with little bits of calcium and iron, in this recipe, it is the only imperfect ingredient." —Gerda Endemann
2 eggs
1 cup lightly packed dark brown sugar
½ teaspoon salt
½ cup neutral baking oil
1 teaspoon vanilla
½ cup old-fashioned rolled oats (not instant)
½ cup whole rye flour
1 cup walnut pieces, chopped finely (if you measure before chopping, you need a generous cup; if you measure after chopping, use a scant cup).
1.Preheat oven to 350°F. Oil the bottom and sides of a baking pan. The smallest you should use is 8 inches square, for thick bars, and the largest pan should be 9×13 inches, for flatter bars.
2. In a bowl, beat the eggs lightly. Beat in the brown sugar, salt, oil, and vanilla. Then stir in the oats.
3. Add the flour to the nuts and stir to coat the nuts with flour. Mix the nut-flour mixture into the batter.
4. Spread in pan and bake about 25 to 45 minutes—less time with a larger pan, more with a smaller one—or until brown and set.
5. Cool and take out or leave in pan as desired. Cut into squares and store tightly covered.