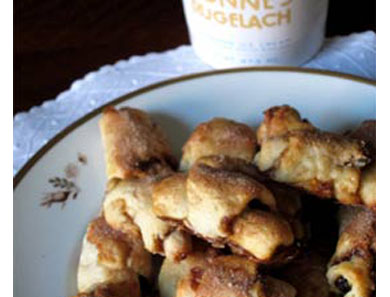 "These little pastry crescents are always available at our house, either fresh from the oven or out of the freezer. Because the pastry is rich in butter and cream cheese, it never dries out and is always flaky and delicious. The raisin, nut, apricot trio that fills the pastry is luscious. Rugelach have been made by our family since I was a little girl. One of our neighbors, transported from Eastern Europe, was a magical baker. I spent many afternoons watching her mix and roll and fold and sometimes she even let me lick the bowls! Our rugelach is a derivation of Mrs. Gaden's."
1. Cream the cream cheese and butter with an electric mixer until it is light and fluffy. The fluffier the lighter and flakier the final pastry will be.
2. Add 1/4 cup granulated sugar, the salt, and vanilla.
3. On low speed, add the flour and mix just until ingredients come together into a dough.
4. Put the dough on a floured board (or your counter) and roll it into a ball. Cut the ball in quarters, flatten slightly, wrap each piece in plastic, and refrigerate for 30 to 60 minutes. I can never wait 60 minutes so I give you the option!
5. Combine 6 tablespoons of granulated sugar, the brown sugar, 1/2 teaspoon cinnamon, the raisins, and walnuts.
6. Again, on a board or your counter, roll each ball of dough into a 9-inch circle. This is not an exact shape or measurement.
7. With a pastry brush, brush the dough with 2 tablespoons apricot preserves almost to the edges, and sprinkle with 1/2 cup of the filling. With a rolling pin, press the filling lightly into the dough. Cut the circle into 12 equal wedges. I must admit, if I want smaller pastries, I will cut he circle into smaller wedges, maintaining a triangular shape.
8. Starting with the wide edge, roll up each wedge, place the cookies, point side down, on a baking sheet lined with parchment paper and chill for 30 minutes. This time I do wait the 30 minutes because they will not hold their shape if they are at room temperature. (The rugelach can also be frozen at this point for up to 2 months and left in refrigerator to defrost before baking.)
9. Preheat the oven to 350 degrees F.
10. Brush each cookie with egg wash. Mix 3 tablespoons granulated sugar and 1 teaspoon cinnamon and sprinkle on the cookies. Bake for 15 to 20 minutes, until lightly browned. Remove to a wire rack and let cool.
Originally featured in In the Kitchen with Chozen