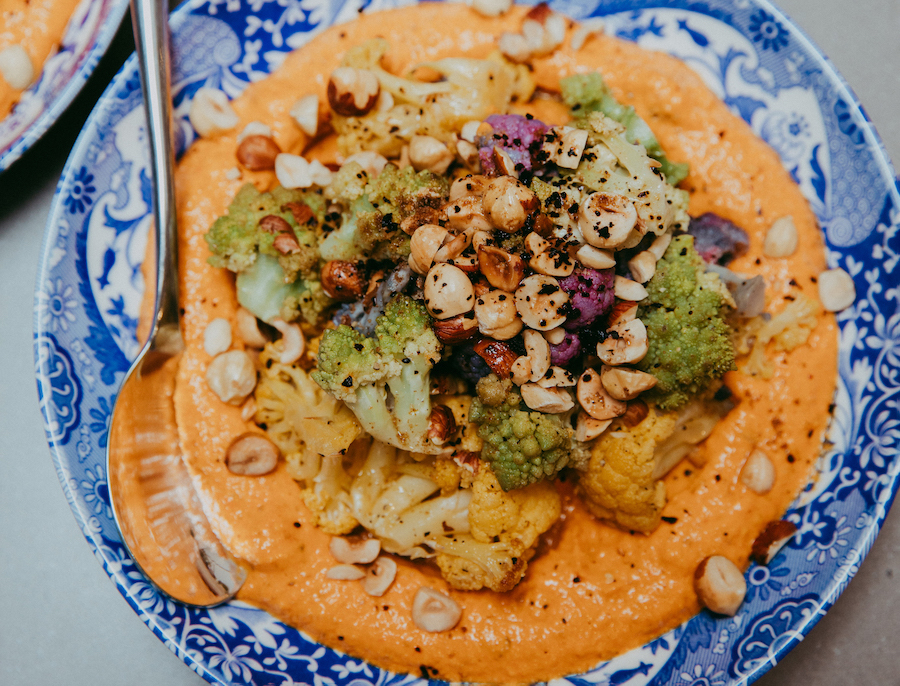 A dish that is all about balance: Romesco should be bright and acidic from the sherry vinegar to pair with the sweetness in the sauce from the roasted romanesco. This would be great served hot or at room temperature, making it an ideal option for make-ahead meals—just store the romesco sauce and roasted romanesco separately until serving.
1. Preheat oven to 375°F.
2. On a parchment-lined baking sheet, separately toss the peppers and carrots with 2 tablespoons of the olive oil, cumin, onion powder, cayenne, salt, and pepper. Roast until the peppers are tender, 15 minutes. Transfer the peppers to a plate and set aside; continue to roast the carrots until tender, 15 minutes more.
3. On a separate parchment-lined baking sheet, toss the romanesco with 2 tablespoons oil, salt, and pepper. Roast until tender, 20 to 25 minutes. Set aside.
4. While the vegetables roast, soak the hazelnuts. In a small bowl, cover ¼ cup hazelnuts with warm water. Let sit 10 minutes, then strain.
5. In a high-speed blender, blend the roasted peppers and carrots, soaked hazelnuts, and vinegar. While the motor is running, stream in the remaining ¼ cup oil. Season with salt and pepper.
6. Spoon the sauce onto a serving platter. Place the roasted romanesco on top and garnish with carrot tops and the remaining ¼ cup hazelnuts.
Originally featured in 4 Easy Recipes to Prep for the Week Ahead