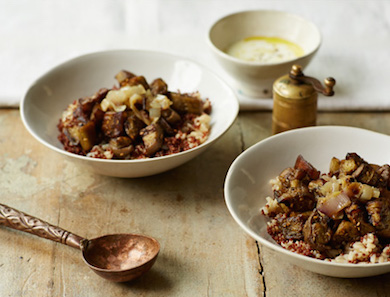 Roasted Za'atar Eggplant Bowl
We love the kick of za'atar with the creaminess of the cooked eggplant, onion and yogurt lemon dressing.
1. Preheat oven to 375°F. Spread the eggplant on a baking sheet and sprinkle with za'atar until coated. Drizzle with olive oil (about two tablespoons). Cook for about 10 minutes, remove from oven and shake the baking sheet to move the eggplant around (for even cooking). Place back in oven for another 10 minutes.
2. Meanwhile, caramelize the onions: Coat a large pan with olive oil and place over medium heat. Sauté onions with bay leaf until soft and deeply caramelized, about 15 minutes, stirring every few minutes. Season with salt and pepper to taste.
3. To make the dressing, finely grate the garlic into a mixing bowl. Add the yogurt, lemon juice and tahini. Mix. Slowly drizzle in olive oil while whisking to incorporate. Season with salt and pepper to taste.
4. Place equal amounts of quinoa and brown rice into two serving bowls or sealable food containers. Top with the eggplant and onion mixture. Drizzle the dressing over the bowls to your liking.
Originally featured in Lunch Bowls