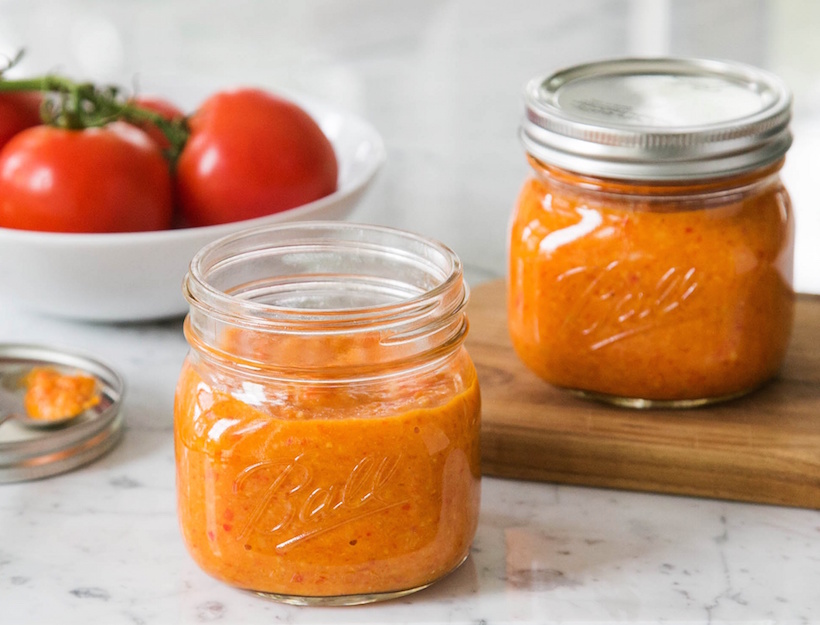 Jose's trick: Roast the vegetables whole, which gives them incredible flavor and makes them easy to peel. We loved this sauce with José's spinach and broccoli tortilla, but it would also be great as dip with crusty bread or served over grilled vegetables.
1. Preheat the oven to 350 degrees.
2. In a large bowl, toss the bell pepper, tomatoes, garlic, and onion together with enough olive oil so that they are lightly coated, about 1 tablespoon. Place the vegetables on a large baking sheet and roast until soft, about 25 minutes. Remove the baking sheet from the oven and set aside to cool.
3. Heat 1 tablespoon of olive oil in a small sauté pan over low heat. Add the almonds and sauté until lightly browned, about 1 minute. Remove the almonds and set aside.
4. Increase the heat to medium and add bread to the pan. Cook the bread until lightly browned, about 30 seconds on each side. Remove the bread from the pan and set aside.
5. When the roasted vegetables are cool enough to handle, peel them. Seed the bell pepper and cut off the tops, along with the tops of the tomatoes. Place the roasted, peeled vegetables in a blender or food processor and add the almonds, toasted bread, vinegar, and remaining 7 tablespoons of olive oil. Blend until a thick sauce forms and season with ½ tablespoon of salt. Serve roasted vegetable sauce with a tortilla, on a hot dog, spread on a sandwich, or as pasta sauce.
Originally featured in Lunchbox Ideas From Our Favorite Chef Dads