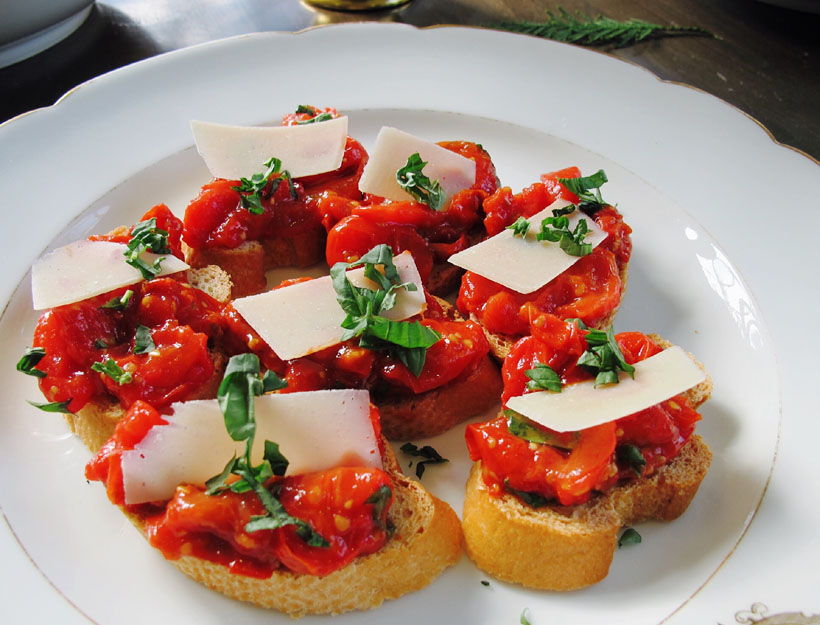 Roasted Tomato Bruschetta
This is our winter version of the classic Italian summertime appetizer. Make the tomato mixture the day before, and the toasted bread a few hours in advance. Just be sure to let the tomatoes come to room temperature before the party.
1. Preheat the oven to 400°F.
2. Cut the tomatoes in half and spread on a foil-lined baking sheet. Toss with the 4 teaspoons olive oil and a generous pinch of salt.
3. Roast in the oven for 20-30 minutes, until they are beginning to blister and brown. Check halfway through to make sure they are not sticking.
4. Remove from the oven, transfer to a bowl, and add garlic. Once the mixture has cooled to room temperature, add chopped basil and taste for seasoning. Depending on your tomatoes, you may want to add a bit more salt and/or a touch of sugar or agave to bring out their natural sweetness.
5. Up to 4 hours before you want to serve, cut 12 ½ inch slices of baguette, and arrange on a baking sheet. Drizzle with remaining olive oil, sprinkle with salt, and bake in a 400°F oven for about 10 minutes.
6. Top each piece of toasted bread with a generous spoonful of roasted tomatoes, and garnish with a parmesan shaving, if desired.
Originally featured in Easy, Make-Ahead Appetizers