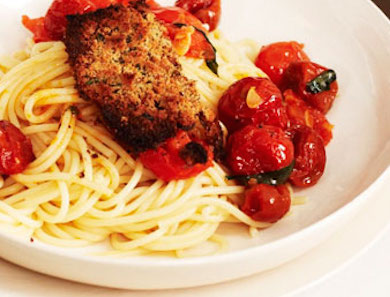 Roasted Tomato and Anchovy Oreganata Pasta
Anchovies go especially well with tomato-based dishes, adding that whole umami thing, and the combination is especially nice with pasta.
1. Preheat oven to 200°F. Place 2 cups tomatoes in an 8x8x2-inch glass baking dish. Stir in 1 tablespoon oil and a large pinch of salt. Roast, stirring occasionally, at least 3 hours and up to 8 hours (the longer they roast, the sweeter and more concentrated the flavor). Set aside.
2. Increase oven temperature to 400°F. Line a small baking sheet with parchment paper. Place the bread crumbs and herbs in a small bowl and season with salt and pepper. Drizzle with 1 tablespoon oil, then stir until the mixture resembles damp sand. Lay the anchovies about ¼ inch apart on the prepared sheet. Evenly pack the bread crumb mixture over them and drizzle with 1 tablespoon oil. Bake until golden brown, 3 to 5 minutes, then set the anchovy oreganata aside.
3. Cook the spaghetti in a large pot of boiling salted water, stirring occasionally, until tender but still firm to the bite. Drain, reserving 1 cup of the cooking liquid.
4. Meanwhile, place remaining 2 cups tomatoes in a large bowl. Crush the tomatoes with your hands. Heat 4 tablespoons oil in a large skillet over medium-high heat. Add garlic and cook, stirring, 30 seconds. Add the crushed tomatoes and a pinch of salt and cook, stirring occasionally, until the juices thicken, 6 to 7 minutes. Add the roasted tomatoes.
5. Add the drained spaghetti to the skillet and toss to coat, adding reserved pasta water ¼ cup at a time if dry. Remove from the heat and stir in the basil. Drizzle with remaining 2 tablespoons oil. Divide among bowls. Top each with ¼ of the anchovy oreganata.
Originally published on Bon Appétit.