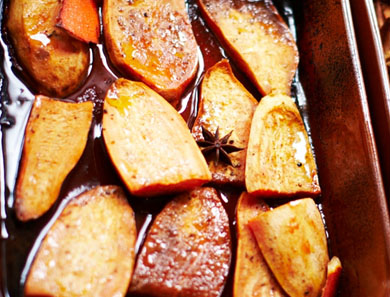 Roasted Sweet Potatoes with Maple Syrup, Orange & Spices
These roasted sweet potatoes get sticky, sweet and full of great holiday flavor when roasted. Serve alongside your holiday bird or anytime of year.
1. Preheat the oven to 375º F.
2. Cut each sweet potato in half horizontally and then cut each half into 1/3 planks (about four slices per half depending on the size of the sweet potato).
3. Lay the sweet potatoes in a single layer in one large or two medium baking dishes (two 13 x 9 dishes will do the job).
4. Mix the maple syrup, vegetable oil, cinnamon and cloves together in a small bowl.
5. Peel off four large strips of zest from the orange. Cut the orange in half and squeeze the juice into the bowl with the maple syrup mixture.
6. Pour this mixture evenly over the sweet potatoes, nestle in the strips of zest and the star anise.
7. Bake for 45 minutes or until the sweet potatoes are soft and saturated.
Originally featured in Thanksgiving Recipes