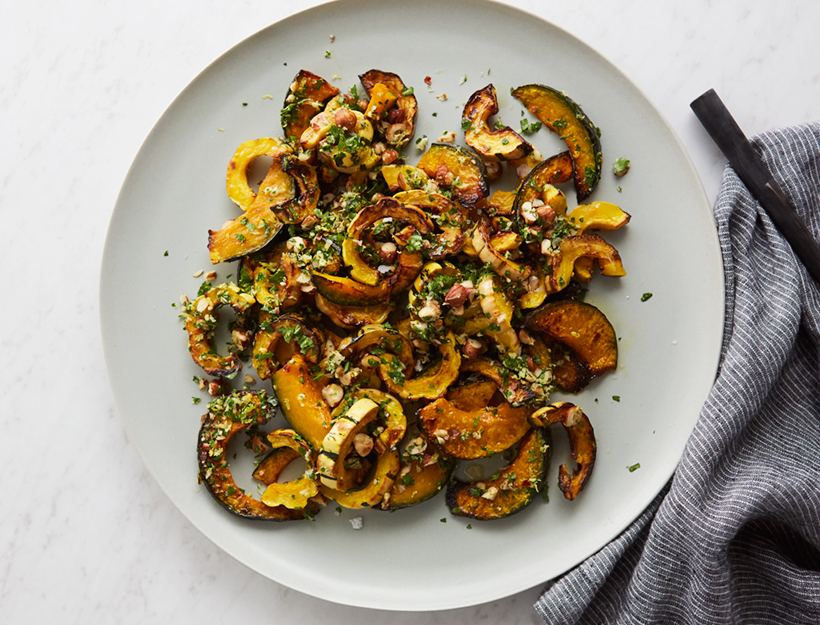 Roasted Squash with Brown Butter and Hazelnut Gremolata
Brown butter makes everything better, and this roasted squash dish is no exception.
1 medium-size winter squash (butternut, delicata, acorn, or kabocha would all be great—I prefer the last 3 because you don't have to peel them!)
olive oil
salt
4 tablespoons unsalted butter
for the gremolata:
2 cloves garlic
1 small bunch parsley, chopped (about ½ cup)
¼ teaspoon chili flakes
¼ cup toasted hazelnuts
zest of 1 small lemon
1. Preheat the oven to 400°F.
2. Cut the squash in half and remove the seeds and pulp. Slice them into nice even half-moons/wedges and spread evenly on a parchment-lined baking sheet. Toss generously with olive oil and salt. Roast in the oven for about 30 to 40 minutes depending on the size of the squash pieces. (Be sure to rotate the pan halfway through the cook time for even browning.)
3. While the squash roasts, prepare the gremolata. Start by mincing the garlic, then add the parsley, chopping it right in with the garlic. Add the toasted hazelnuts and roughly chop. Add a pinch of salt, the chili flakes, and the lemon zest and give it another rough chop to combine.
4. Cook the butter in a small saucepan over low heat until just browned but not burned.
5. Transfer the squash to a serving dish, pour over the brown butter, and top it with the gremolata.
Originally featured in A Holiday Meal, Three Ways: Allergen-Free, Kid-Friendly, and Dinner for Two