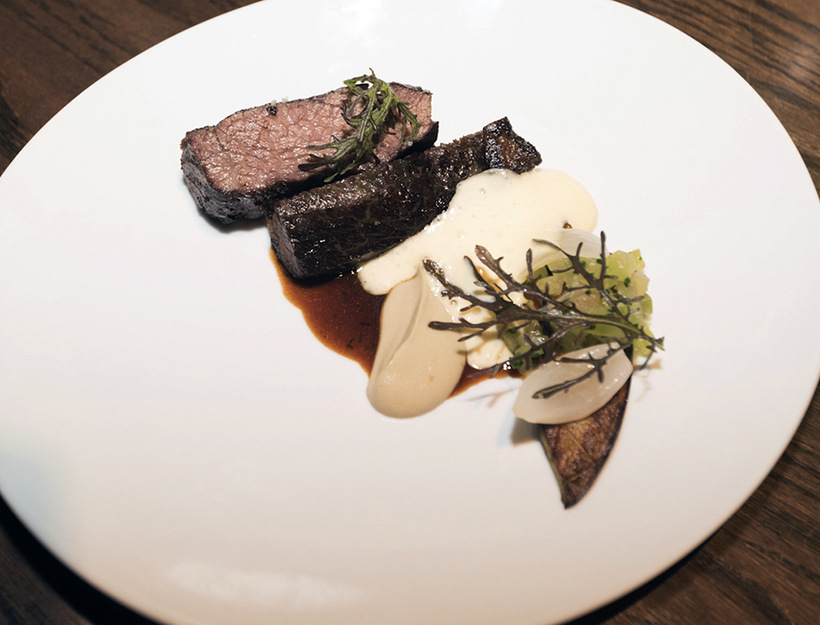 Roasted Shortribs with Eggplant and Bone Marrow Sabayon
These meltingly tender short ribs are totally worth the long cooking time, just be sure to plan ahead.
for the short ribs:
10 pounds boneless short ribs
salt
for the eggplant purée:
2 large eggplants
olive oil
sherry vinegar, to taste
for the bone marrow sabayon:
1/2 cup rendered bone marrow
2 eggs
4 egg yolks
1 pound melted butter
salt, to taste
for the pickled onions:
1/4 pound pearl-sized red onions, halved
1 cup red wine vinegar
1/2 cup water
1/4 cup sugar
2 teaspoons salt
watercress, to garnish
1. Preheat the oven to 275°F.
2. Trim and remove the silver skin from all of the short ribs. Season with salt, place on a wire rack fitted over a baking dish, cover and cook for 8-10 hours, or until tender.
3. For the eggplant purée, preheat the oven to 400°F. Prick the eggplants a few times and place in a baking dish. Drizzle a small amount of olive oil and cover with foil. Bake for 1 hour, then remove and let cool.
4. Scrape all of the flesh out of the eggplants, place in a strainer, and press for 1 hour or until most of the liquid has drained off. Blend in a blender on high and season with salt and sherry vinegar to taste.
5. To make the bone marrow sabayon, combine the bone marrow, eggs, egg yolks and melted butter in a blender and blend until smooth. Season to taste with salt. Place the mixture into a whipped cream canister and charge with 2 cream chargers. Cook for 8 minutes at 145°F.
6. Place the onions in a metal bowl and combine the remaining ingredients to a boil in a small saucepan. Pour the liquid over the onions and leave to cool to room temperature. If not using right away, store in the refrigerator.
7. To finish, arrange the purée and pickled onions on TK plates. Top with a couple of pieces of short rib and finish with foamed sabayon just before serving. Garnish with watercress.
Originally featured in DIY Boka's Cheesy Pasta (and More) at Home