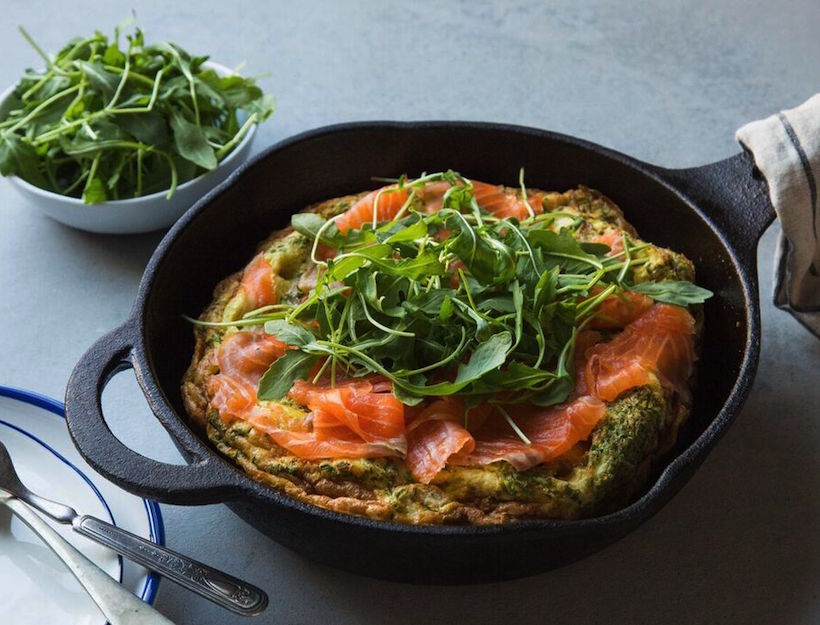 Roasted Potato & Chive Frittata with Smoked Salmon & Arugula
Easy and elegant, this frittata can be served hot out of the oven or at room temperature. You can even make the frittata mixture the night before, just be sure to let it come up to room temperature before cooking. We like to serve this right out the cast iron skillet it's cooked in, but feel free to transfer it to a platter instead.
1. Preheat the oven to 400°F.
2. Arrange sliced potatoes and shallots on a rimmed baking sheet and toss with olive oil, salt, and pepper to taste. Roast for 20 minutes, or until tender and nicely browned.
3. While the potatoes and shallots roast, whisk together eggs, 1 teaspoon kosher salt, ¼ teaspoon ground black pepper, the chopped chives, and the crème fraîche in a large bowl until very well combined.
4. When the potatoes and shallots are cooked, add them to the egg mixture, whisking to combine, and switch the oven to the low broil setting.
5. Heat a 10-inch cast-iron skillet over medium heat and coat the bottom generously with olive oil. Pour in the frittata mixture and gently cook five minutes, or until the bottom and sides are beginning to set.
6. Transfer the skillet to the oven and cook another 5-8 minutes, checking every minute or so to make sure the top is not burning, as every broiler is a bit different. Remove from the oven when the frittata is fluffy, golden, and firm to the touch. If it is beginning to brown on top too much without getting cooked in the center, turn off the broiler and let it bake in the hot oven until the eggs are cooked through.
7. To serve, top the frittata with smoked salmon slices and arugula. Drizzle over a little olive oil, fresh lemon juice, and a small pinch of salt.
Originally featured in Healthy Breakfasts