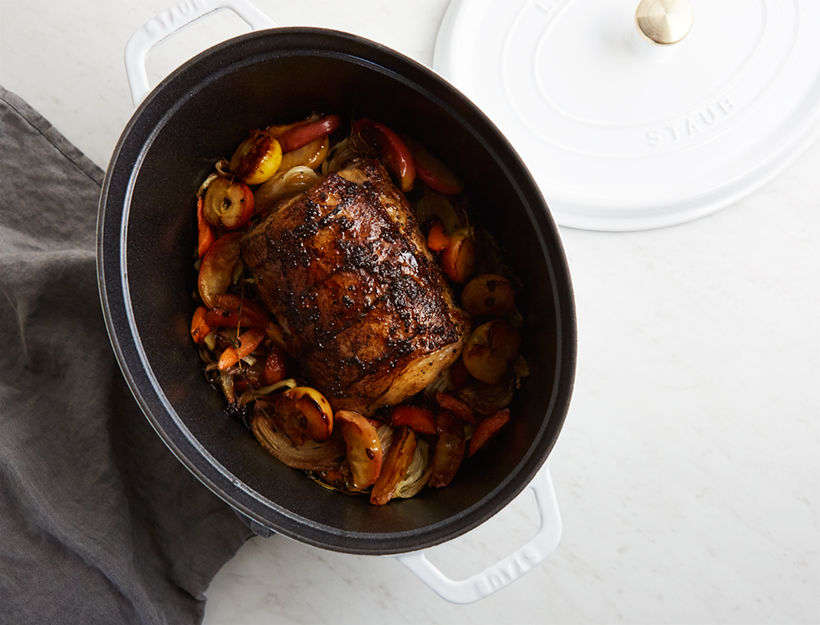 Roasted Pork Tenderloin with Apples
"This pork tenderloin is easy to assemble and prepare—plus, it makes for a nice alternative to turkey or roast beef, which are so often served during the holidays. And who doesn't love a one-pot dish?!"
1. Preheat the oven to 400°F.
2. In a large ovenproof skillet, heat the grape-seed oil over high heat. Season the pork loin all over generously with salt and pepper. Spread the mustard generously as well.
3. Sear the meat until golden brown on all sides, about 2 to 3 minutes per side. Transfer the meat to a plate and set aside.
4. Add the onion, carrot, fennel, and thyme and stir until the vegetables are browned, about 8 minutes. Add the apple cider vinegar and let it reduce for another 1 to 2 minutes. Add the apples and return the pork to the skillet.
5. Transfer to the oven and roast for 30 to 35 minutes, or until cooked through.
6. Slice and serve on a platter with the veggies and apples around, and pour any sauce that has accumulated in the skillet over the top.
Originally featured in A Holiday Meal, Three Ways: Allergen-Free, Kid-Friendly, and Dinner for Two