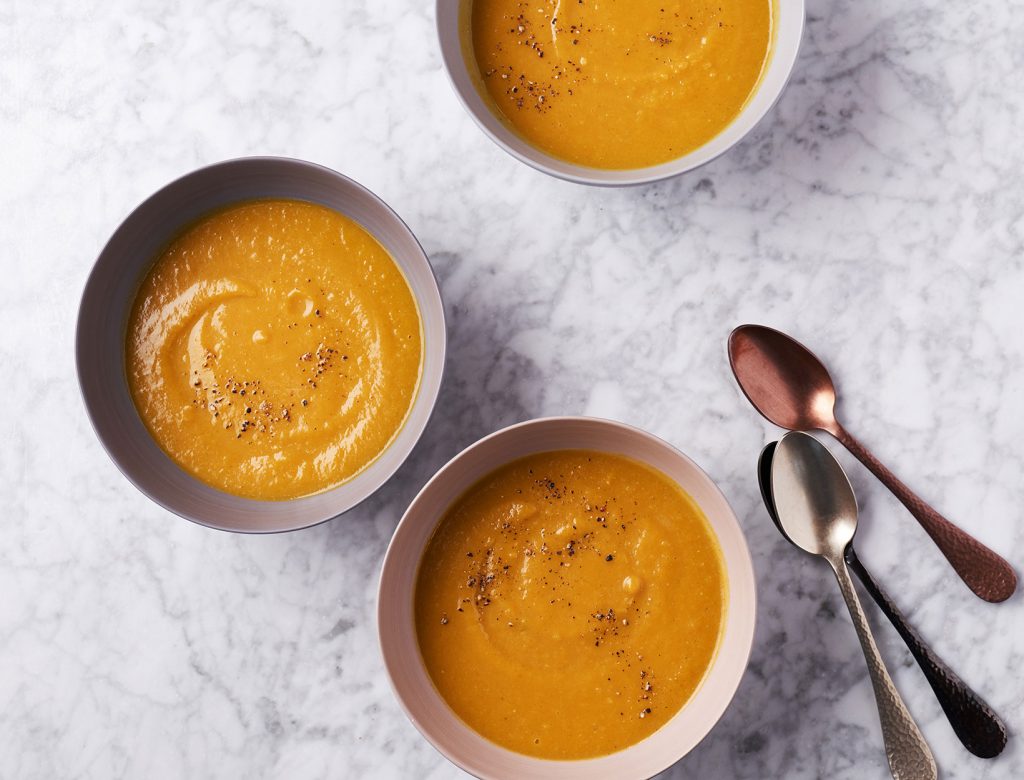 This warming winter soup has a good kick of ginger, which helps stimulate digestion. Use the second half of the kabocha in our braised lentil salad.
1. Preheat the oven to 400°F. Season the kabocha halves generously with salt and pepper, drizzle each with 1 tablespoon olive oil, and place flesh side down on a parchment-paper-lined or foil-lined baking sheet. Bake until browned and tender, about 35 minutes.
2. Meanwhile, heat the coconut oil in a heavy-bottomed saucepan over medium heat. Add the sliced onion and a pinch of salt, stir, then turn down the heat to medium-low. Cover the pot and cook for about 20 minutes, stirring occasionally, until the onions are very soft and sweet.
3. Add the garlic, ginger, and ground spices; turn the heat back up to medium-high; and sauté for 1 minute. When the spices are fragrant but not burned, add the stock and another big pinch of salt. Partially cover the soup and let it simmer gently until the squash is ready.
4. When the squash is cooked, let it cool slightly, then scrape out the flesh of one half and add it to saucepan. You should have about 2 cups cooked squash. Bring the soup up to a boil, then reduce to a simmer, partially cover, and slowly cook for 10 minutes.
5. Blend, taste for seasoning, and enjoy!
Originally featured in The Annual goop Detox