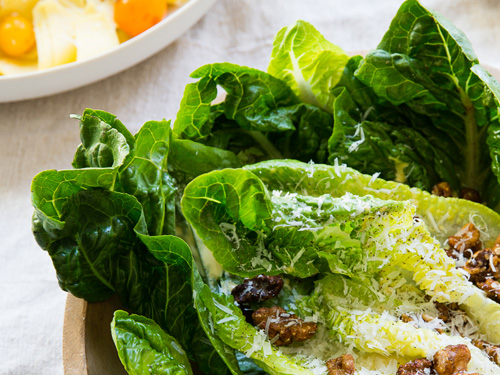 A delicious dressing from Roberta's Cookbook, which we tried out for an edition of Cookbook Club. Try this on their Romaine, Candied Walnuts and Pecorino salad.
1. Preheat the oven to 350°F. Cut a quarter inch off the head of garlic and place the head, cut side up, on a big square of aluminum foil. Give it a splash of water and a splash of olive oil. Bring the corners of the foil up over the garlic to make a loosely wrapped little package. Bake for a little less than 1 hour. Remove the garlic from the oven and let it cool in the foil. Squeeze the roasted garlic out of 4 or 5 cloves and set the rest aside for another use (it's really good just spread on grilled bread).
2. Put the roasted garlic, the raw clove of garlic, mustard, vinegars, egg yolks, anchovies, and lemon juice into a blender or food processor and blend for 30 seconds or until combined.
3. While blending, add the olive oil in a slow, steady stream until it's incorporated and the dressing looks smooth. Taste and add salt, pepper, and more lemon juice as desired. The dressing will keep for a week in the refrigerator.
Recipe reprinted with permission from Roberta's Cookbook.
Originally featured in The goop Cookbook Club: Roberta's