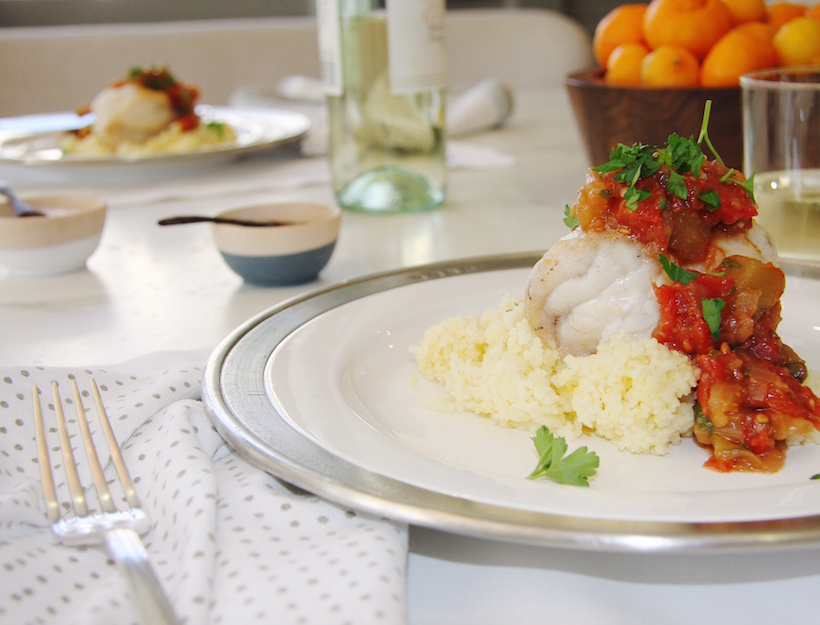 Roasted Fish with Caponata
This dish is quick, simple and light. The fish takes 10 minutes to cook, and the caponata tastes best when made ahead. This recipe makes extra caponata: It's great on crostini or served with eggs for breakfast.
1. To make the caponata, heat olive oil in a large sauté pan over medium heat, then add red onion and cook for five minutes.
2. Add the diced eggplant and sauté for another five minutes, until the eggplant is beginning to soften and brown, then add the salt and garlic. Sauté for one minute and when the garlic is fragrant, add the canned tomatoes.
3. Allow the mixture to simmer, partially covered, for 15-20 minutes, stirring occasionally to make sure it isn't sticking.
4. Remove from the heat, add capers, red wine and honey, and more salt if desired. When the mixture has cooled, add the chopped basil.
5. For the fish, preheat the oven to 450 degrees.
6. Place fish in a small baking dish or on a baking sheet, drizzle with olive oil and season generously with salt and pepper.
7. Roast for 10-12 minutes, or until fish becomes opaque and flakes when pulled apart. Serve with caponata spooned on top.
Originally featured in Date Night Dinners