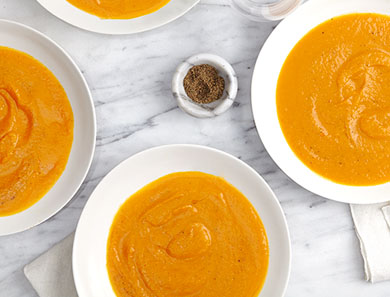 Roasted + Clean Carrot Soup
The idea here is to slow roast and caramelize half the carrots and keep the other half super clean. This gives a complex, layered taste to a soup with basically just one main ingredient.
1. Divide the carrots in half. Place one half of the carrots on a baking sheet. Season with salt and pepper and drizzle lightly with olive oil. Toss to combine. Place in a 375°F degree oven for about 20 minutes, shaking the pan every so often for even cooking. Remove from oven when soft, slightly brown and caramelized.
2. Meanwhile, bring the stock to a boil in a large saucepan with the ginger, onion and garlic. Bring down to a simmer and cook for about 5 minutes or so until the onions are soft. Add the remaining half of the carrots and simmer for another 5 minutes until the carrots are just slightly soft but not cooked through. Transfer the mixture to a blender.
3. Add the roasted carrots to the blender with the par-boiled carrots. Blend until smooth. Add salt and pepper to taste and a drizzle of olive oil over each portion to serve.
Originally featured in A Warming Winter Detox