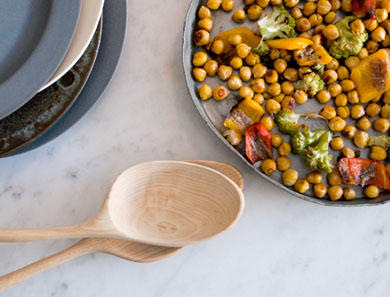 Roasted Chickpeas with Romanesco, Peppers + Anchovies
We tried the recipe with cauliflower in the test kitchen and again with romanesco for the shoot. Both work just as well.
1. Pre-heat oven to 400°F. Place romanesco, chickpeas and bell pepper onto a baking sheet. Sprinkle capers on top. Using your fingers, tear up anchovies and place on the pieces of bell pepper (the anchovies will melt into the pepper while cooking – delish). Sprinkle with salt and pepper and drizzle olive oil on top.
2. Place tray in oven and cook for about 15 minutes. Remove, shake the pan to move the veggies and chickpeas around and place back in oven to roast for about another 10 minutes until the romanesco is nice and partially charred and peppers are soft and edges begin to brown.
Originally featured in Spilling the Beans