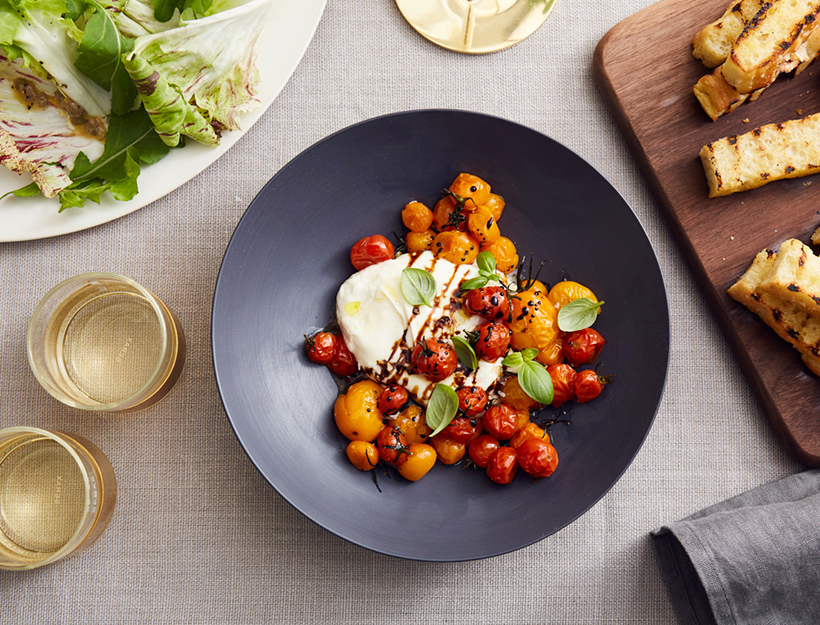 Roasted Cherry Tomatoes with Burrata and Grilled Focaccia
Let's be honest: Anything involving burrata is going to be good, but this dish—which combines the creamy cheese with blistered cherry tomatoes, grilled focaccia, and a drizzle of syrupy aged balsamic vinegar—is pretty exceptional. If you don't have time to make the focaccia, buy some.
1. Preheat the oven to 400°F.
2. Toss the cherry tomatoes with 1 tablespoon of olive oil and a generous pinch of sea salt.Transfer to a small parchment-paper-lined baking sheet and roast in the oven for 15 to 20 minutes, or until the tomatoes are starting to pop. Remove from the oven and let cool.
3. While the tomatoes cool, heat a grill pan over medium-high heat. Drizzle the sliced focaccia with a little olive oil and season with salt. Grill the bread until each piece has nice grill marks on both sides.
4. Place the burrata in the center of a serving plate and arrange the roasted tomatoes around it. Drizzle the cheese and tomatoes with a little aged balsamic, olive oil, sea salt, and torn basil (if you want).
5. Serve with grilled bread on the side.
Originally featured in Foolproof Italian Dinner Party