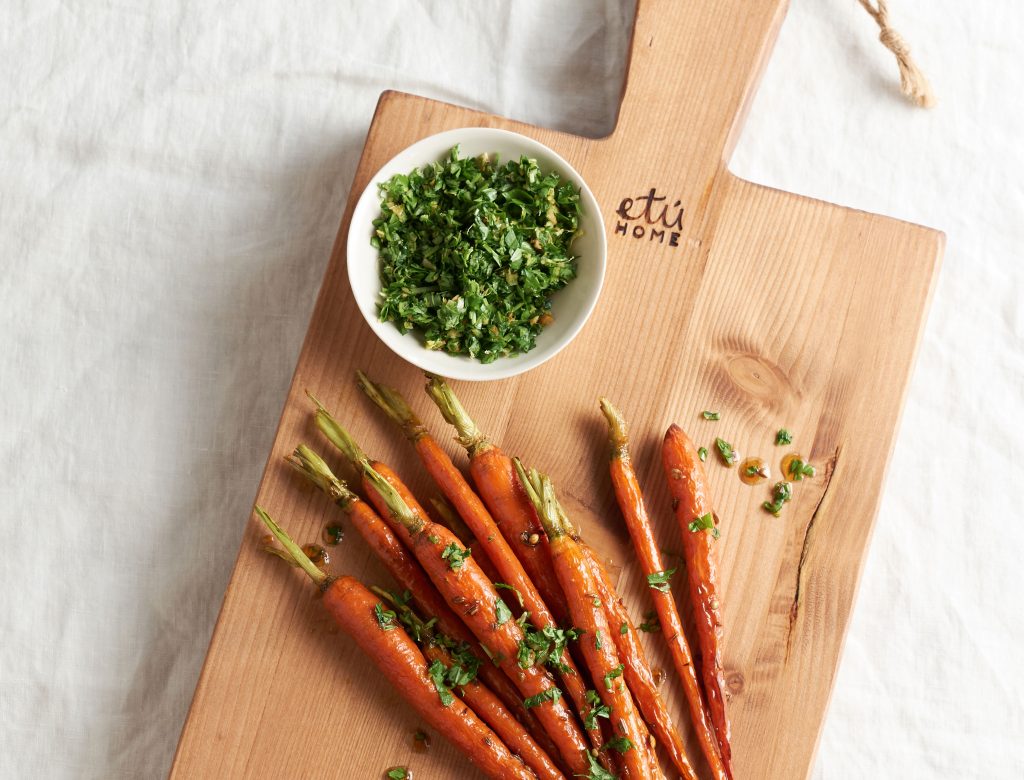 Roasted Carrots with Mustard Greens Gremolata
Chopping the mustard greens and sprinkling them over the carrots as a gremolata is a unique way to optimize their bright and intense flavor.
1 pound slender carrots, trimmed and peeled
kosher salt and freshly ground black pepper
2 tablespoons olive oil
1 tablespoon honey
1 teaspoon coriander seeds, lightly crushed with the back of a knife
1/2 teaspoon caraway seeds, lightly crushed with the back of a knife
4 garlic cloves, peeled and lightly smashed
1/2 cup mustard greens, finely chopped (to prep for chopping, wash several times in cold water, then remove stems and center ribs)
2 tablespoons parsley, finely chopped
1 tablespoon finely grated zest, from 1 large or 2 small lemons
1. Heat oven to 400°F. In a small bowl, whisk together olive oil, honey, coriander seeds, and caraway seeds.
2. Place carrots and garlic cloves in an even layer in a casserole or other baking dish. Season generously with kosher salt and pepper. Add the olive oil-honey-spice mixture, and toss well to evenly coat. Roast for about 20 to 30 minutes, or until the carrots and garlic cloves are tender and golden brown. While cooking, toss the carrots and garlic around in the pan a few times to ensure even browning. Once done, remove from oven.
3. Finely chop the roasted garlic. In a small bowl, combine the roasted garlic with the mustard greens, parsley, and lemon zest. Use the back of a fork to evenly incorporate the roasted garlic into the greens. Sprinkle the carrots generously with the mustard greens gremolata. Season to taste with salt and pepper. Serve warm or at room temperature.
Contributed by Emily Connor for our Dark Leafy Greens contest with Food52. 
Originally featured in Dark, Leafy Green Recipes