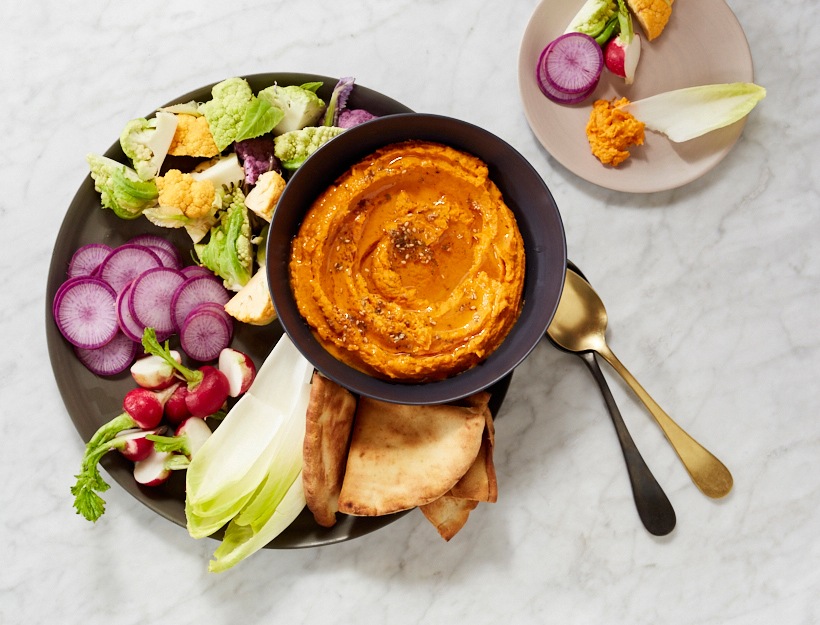 Roasted-Carrot Hummus
We can't stop eating this fun and healthy twist on hummus.
6 small to medium carrots, scrubbed well and cut into thirds
3 tablespoons avocado oil, divided
salt and pepper
½ teaspoon za'atar, plus extra for garnish
1 tablespoon tahini
1 small clove garlic, very finely minced or grated
1 teaspoon lemon juice
assorted crudités or toasted pita, for serving
1. Preheat the oven to 425°F.
2. Toss carrots with 1 tablespoon of the avocado oil, some salt and pepper, and ½ teaspoon za'atar.
3. Transfer to a parchment-lined baking sheet and roast for 25 minutes, or until carrots are tender and starting to brown.
4. Remove from the oven and let cool to room temperature.
5. Use an immersion blender or food processor to blend the carrots with remaining ingredients. Season to taste with salt and more lemon juice as needed.
6. Garnish with a drizzle of oil and a good sprinkling of za'atar. Serve with pita chips or crudités.