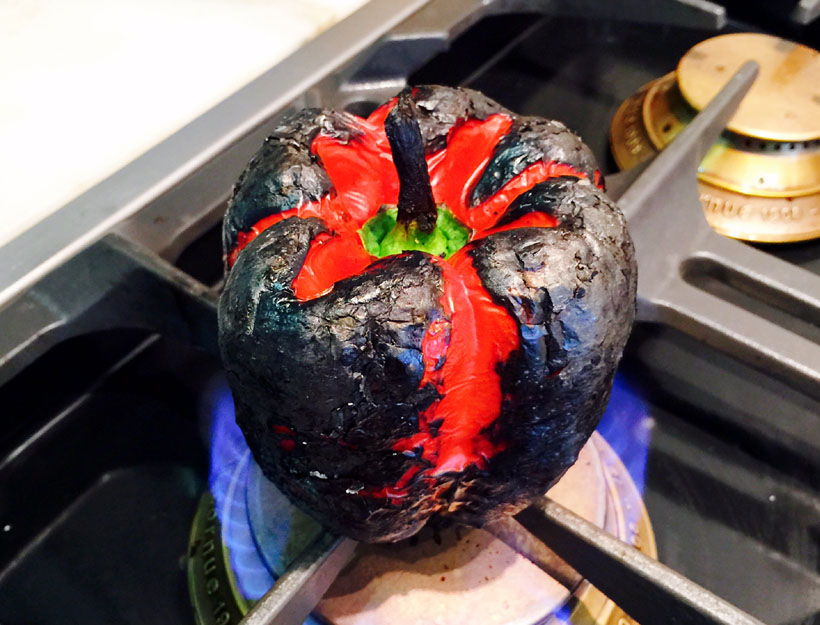 Easy to make, roasted peppers add a ton of flavor to anything from a sandwich, salad or pasta, or enjoy alone, with a drizzle of good olive oil and sea salt.
1. Roast whole bell peppers over an open gas flame over high heat, rotating with tongs, until completely blackened all over. Be patient—you want the flesh to soften and the skin to be totally, totally charred; it should take 15 or 20 minutes.
2. After the peppers are cooked, put them in a large metal or glass bowl, cover it with plastic wrap, and let them sit until they're cool enough to handle (the covered bowl creates steam which makes it super easy to peel the peppers). Incidentally, a plastic bag works too.
3. When they're cool, slip off and discard the charred skins, running them under water as needed to remove all the skin.
4. Cut the peppers open and discard the seeds. These keep for 1–2 weeks well rubbed with a little olive oil and stored in an airtight container in the refrigerator.
Originally featured in My Father's Daughter