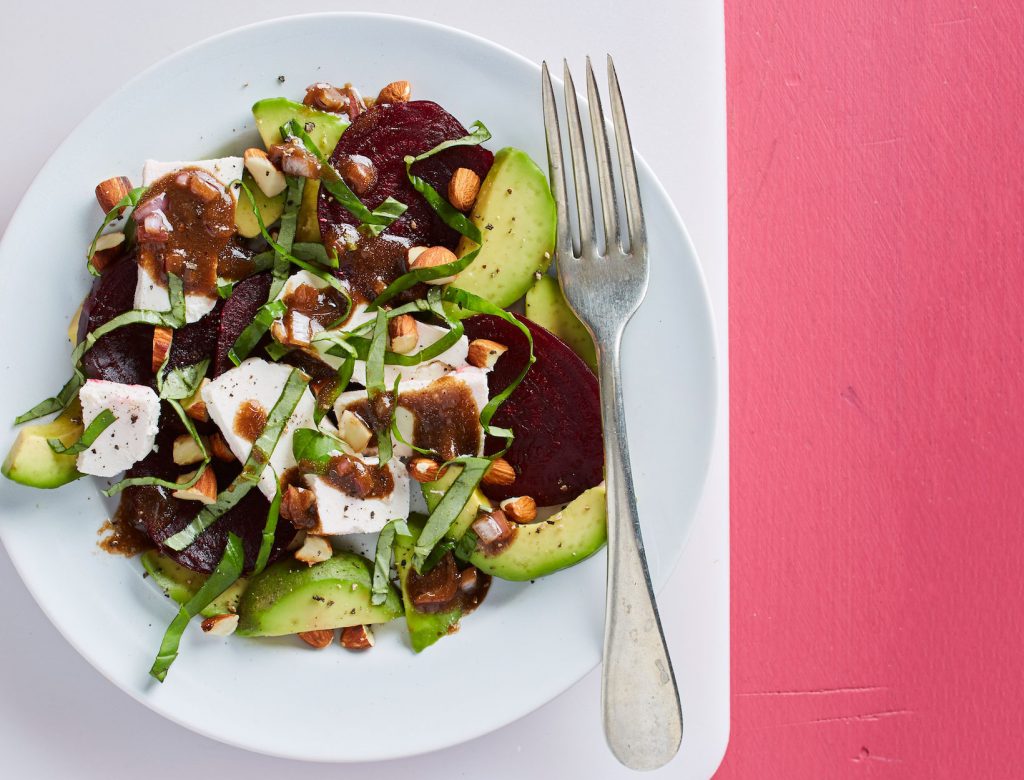 Roasted Beet-Cheese-Basil Caprese with Avocado and Toasted Almonds
Super simple and also vegan, this high-fat, nutrient-dense recipe is one of the reasons we love Cole's practical food book Ketotarian. All it takes is ten minutes of prep and an hour of roasting time.
1 small beet
2 tablespoons balsamic vinegar
1 tablespoon minced shallots
1 tablespoon extra virgin olive oil
½ teaspoon preservative-free, sugar-free Dijon mustard
¼ teaspoon sea salt
¼ teaspoon freshly ground black pepper
4 ounces soft fresh vegan cheese, sliced
1 small avocado, pitted, peeled, and sliced
¼ cup raw, unsalted almonds, lightly toasted and coarsely chopped
5 leaves fresh basil, thinly sliced
1. Preheat the oven to 400°F. Wrap the beet in foil. Roast until tender when pierced with a fork, about 1 hour. When the beet is cool enough to handle, peel it and cut it into about 8 slices.
2. Meanwhile, in a small bowl, whisk together the vinegar, shallots, oil, mustard, ⅛ teaspoon salt, and ⅛ teaspoon pepper.
3. Arrange the beet, cheese, and avocado slices on 2 plates and sprinkle with nuts and basil. Sprinkle evenly with the remaining ⅛ teaspoon salt and ⅛ teaspoon pepper, and drizzle evenly with the vinaigrette.
Originally featured in The Plant-Based Ketogenic Diet