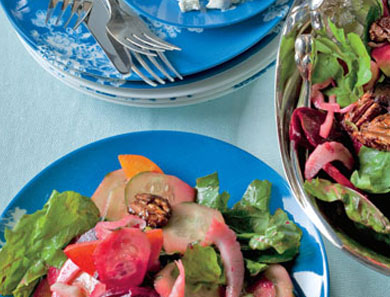 Roasted Beet and Goat Cheese Salad
We've been fans of the Beekman boys, Brent and Josh, since the beginning when they moved from the city to the country and started a goat farm. They are supporters of local agriculture, heirloom vegetables, high quality products, and of their town, Sharon Springs. Here they share recipes collected from their time at the farm and from the ingredients available in any given season. Their salad below, of course, has goat cheese as a prominent ingredient. One of the highlights of this book, beyond the recipes, is the gorgeous food and still life photography by Paulette Tavormina.
1. Preheat the oven to 425°F. Rinse the beets and wrap in foil (if they are of a similar size, you can wrap several together). Place on a baking sheet and bake for 1 to 11/4 hours, or until the beets yield to gentle pressure. When cool enough to handle, unwrap and slip the skins off (use a paper towel or kitchen gloves so you don't stain your hands). Cut the beets in half and thinly slice.
2. Meanwhile, in a small skillet, combine the sugar, coriander, and 1/4 teaspoon salt. Add the pecans and cook over low heat, tossing occasionally, until the sugar has melted and is lightly caramelized (the color of a brown paper bag), about 5 minutes. Immediately transfer the nuts to a plate to stop further cooking and darkening of the sugar.
3. In a large bowl, whisk together the lemon juice, oil, and mustard. Season with salt to taste. Add the beets, cucumbers, fennel, arugula, and pecans and toss to combine. Serve with the goat cheese scattered over the top.
Originally featured in The Thanksgiving Lowdown