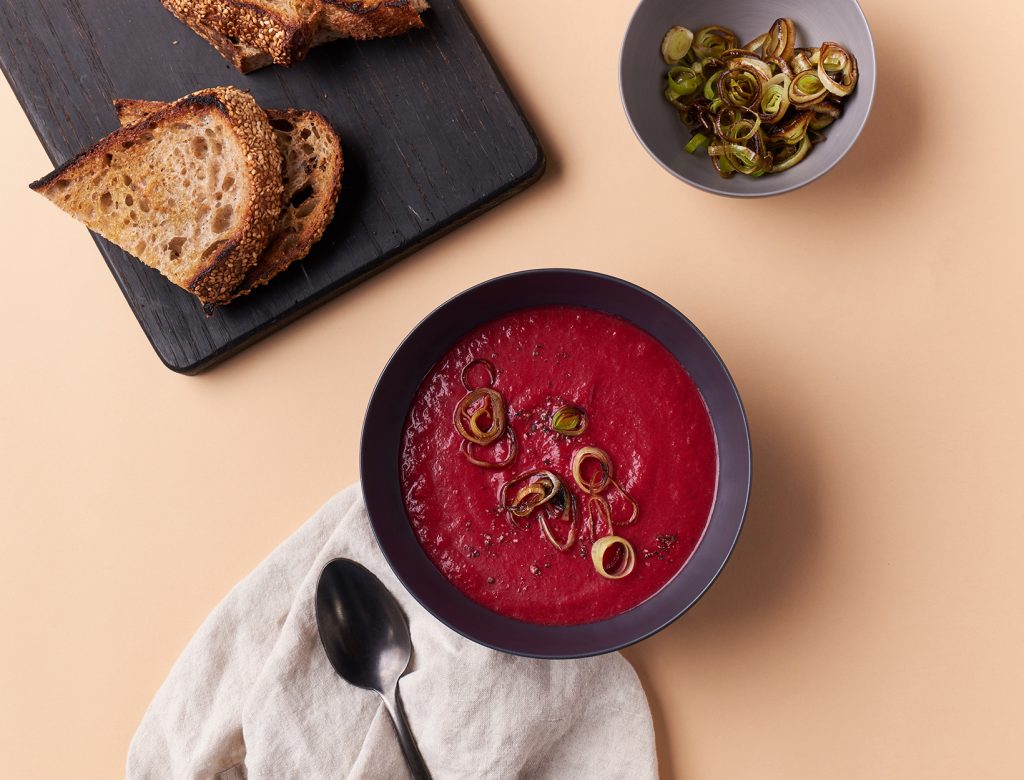 Roasted Beet and Garlic Prebiotic Soup with Crispy Leek Croutons
"While they're not as commonly spoken of as probiotics, prebiotics are equally vital for great gut health—they're the food that the good bacteria need to survive and thrive. This soup boasts a number of sources of prebiotics, with leeks and raw and roasted garlic (the raw garlic has stronger prebiotic power, and the roasted—well, that's just delicious). Beets are incredibly detoxifying, and add an earthy, sweet kick to this allium-rich concoction."
1. Heat oven to 375°F.
2. Drizzle beets with avocado oil and wrap tightly in parchment lined foil, bunching up into tight balls. Cut the tops off garlic, leaving bulb intact, and drizzle with avocado oil. Wrap tightly in parchment lined foil, bunching into tight balls. Place wrapped beets and garlic on a sheet pan and stick in oven.
3. Roast until packages give easily when squeezed, about 45 minutes. Remove from oven and let cool, then peel and quarter beets. Squeeze garlic from cloves and set aside.
4. In a large pot, heat 2 tablespoons avocado oil over medium heat. Add half of total quantity of leeks (white and green parts equally) and ¼ teaspoon sea salt. Sauté until lightly brown, about 5 minutes. Add roasted garlic and quartered beets, then top with vegetable broth and bring just to boil.
5. Turn off heat and add chopped garlic; cover and let sit for at least 10 minutes before adding to blender, adding in lemon juice, and pureeing until smooth. Salt to taste.
6. While soup is sitting, heat a medium nonstick skillet over medium-low heat. Add 2 tablespoons avocado oil and leeks and cook, stirring occasionally, until golden and crisp, about 10 minutes. Transfer to a paper towel with a slotted spoon and toss with salt. Let cool completely—they'll continue to crisp as you do.
7. To serve, pour soup into bowl. Garnish with a generous amount of crispy leeks and fresh ground black pepper and serve immediately.
Originally featured in Three Nourishing Fall Soups (That Are Also Good for Your Gut)