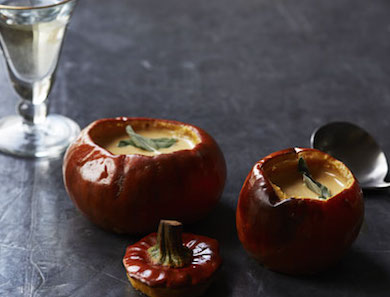 Super seasonal, this soup is as delicious as it is adorable. Croutons are baked into the bottom, making it a tasty, hearty starter.
1.Preheat oven to 375°F.
2.Cut a small circle around the diameter of the pumpkin to remove the top. With a spoon and or your hands, scrape out the seeds and any loose, stringy fibers, but not any flesh (you will need this later).
3.Over medium high heat in a large sauté pan, cook bacon until crispy. Drain on a paper-towel lined plate and remove grease from pan. When bacon has cooled down a bit, tear into bite-size pieces.
4.In the same pan over medium high heat, add butter, a drizzle of olive oil, garlic, whole thyme sprigs and sage leaf. Sauté for about a minute until garlic is soft. Add bread and bacon and season with salt and pepper. Cook for about a minute or so until bread is lightly brown and crisp, adding more olive oil if the bread feels too dry.
5.Whisk together the broth, cream and nutmeg with a pinch of salt and pepper in a bowl.
6.Add bread mixture to pumpkins, pushing them firmly into the bottom. Pour the liquid into each pumpkin and replace top.
7.Place pumpkins in a small, greased roasting pan, and lightly brush the flesh with olive oil. Bake for 1 hour until pumpkin flesh is soft but still holds its shape. Remove from oven.
8.Remove thyme and sage leaves. Gently spoon liquid out of pumpkin and add to the blender, leaving the bread bits behind. Even more gently, scoop out the inside of the pumpkin flesh, being careful not to rupture the structure of the pumpkin, and add to the blender. Blend mixture until smooth.
9.Meanwhile, add gruyere to the bread pieces in the pumpkins. Pour soup on top, garnish with sage leaves and serve.
Originally featured in A Holiday Feast