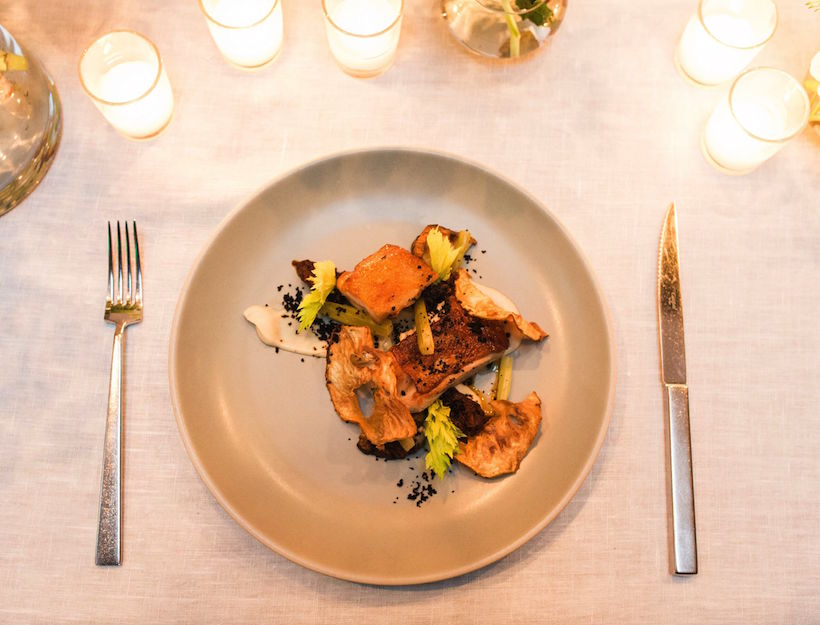 Roast Chicken with Celery Done Three Ways
Who knew celery root and chicken were such a perfect pairing?! We loved the creamy celery root purée and the fact that chef Matt incorporates every element of the celery plant into this dish, from the root to the stalk to the leaves.
1. To cook the chicken, preheat the oven to 425 degrees F.
2. Remove the chicken giblets. Rinse the chicken inside and out. Remove any excess fat and leftover pin feathers and pat the outside dry. Liberally salt and pepper the inside of the chicken. Stuff the cavity with the bunch of thyme, both halves of  lemon, and all the garlic. Brush the outside of the chicken with the butter and sprinkle again with salt and pepper. Tie the legs together with kitchen string and tuck the wing tips under the body of the chicken. Place the chicken into roasting pan.
3. Roast the chicken for 1 1/2 hours, or until the juices run clear when you cut between a leg and thigh. Remove the chicken to a platter and cover with aluminum foil for about 20 minutes.
4. While the chicken cooks, bring milk, water, and salt just to boil in large, heavy saucepan over high heat. Add celery root cubes and onion quarters; bring to boil. Reduce heat to medium and simmer until vegetables are tender, about 30 minutes. Drain, discarding cooking liquid. Combine vegetables and butter in processor and purée until smooth. Season to taste with salt and white pepper.
5. To make the roasted celery root, preheat oven to 350 degrees. Mix all ingredients in a large bowl. Place wedges on baking sheet and roast in oven for 35 minutes or until tender and golden brown.
6. For the celery salad, mix all ingredients in a medium bowl and let stand for ten minutes to marinate.
Originally featured in FT33 Favorites for the Home Cook