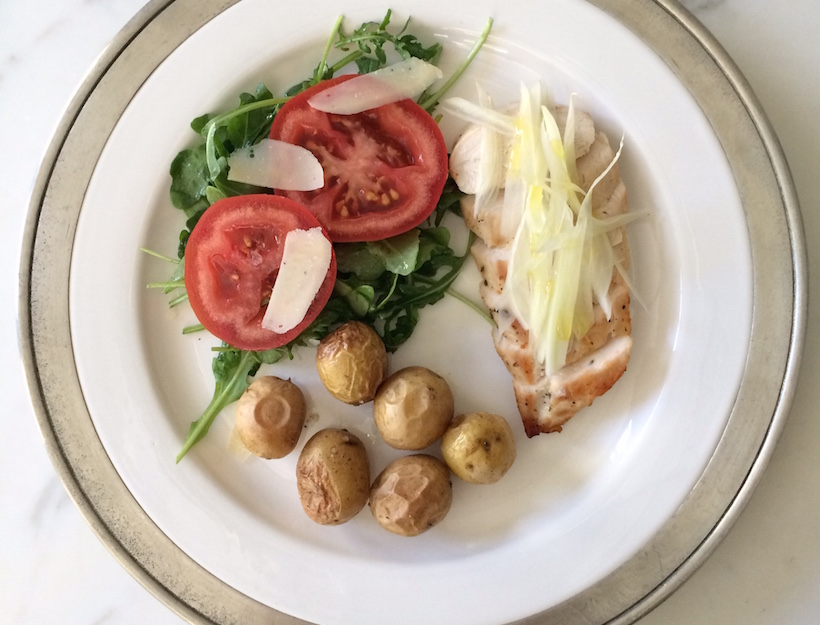 Roast Chicken Breast with Shaved Fennel & Lemon Thyme Vinaigrette
The lemon marinade gives this chicken great flavor—kids love it, too!
1. To make the lemon thyme vinaigrette, whisk together olive oil, lemon juice, garlic cloves, and thyme and season to taste with salt and pepper.
2. Mix chicken breasts with ½ cup of the vinaigrette, cover, and marinate overnight.
3. When ready to cook, preheat the oven to 375°F and place chicken on a foil-lined baking sheet. Roast until cooked through, about 30 minutes.
4. Toss fingerling potatoes with olive oil, salt, and pepper on a baking sheet and roast in the oven with the chicken for about 30 minutes.
5. To serve, toss arugula with some of the lemon thyme vinaigrette and season with salt and pepper to taste.
6. Slice cooked chicken, divide between 10 plates, and top with shaved fennel.
7. Divide arugula between the 10 plates and top with sliced tomato, a little salt and pepper, and shaved parmesan.
8. Add roasted fingerlings to each plate to finish.
Originally featured in Why the World Goes Hungry (And Hopefully Won't For Long)