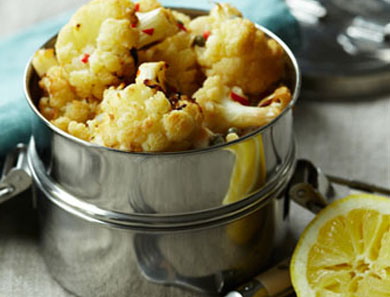 Roast Cauliflower with Chili, Garlic, Capers, and Lemon
Great warm, this is even better at room temperature, when all the flavors start to mingle.
1. Preheat your oven to 425°F.
2. Blanch the cauliflower in salted boiling water for 2 to 3 minutes, then drain in a colander. When it's completely dry, add to a roasting pan. Season with salt and pepper.
3. With a pestle and mortar, bash the chili, garlic, and a pinch of salt until it forms a paste. Add 2 to 3 tablespoons of olive oil, mix, and pour over cauliflower. Pour over the juice of 1 lemon, and reserve the rest. Toss to coat every floret.
4. Roast uncovered for 25 to 30 minutes, mixing once or twice to even out the browning.
5. Remove from oven and sprinkle immediately with lemon and capers. Toss to coat.
Originally featured in London Picnic