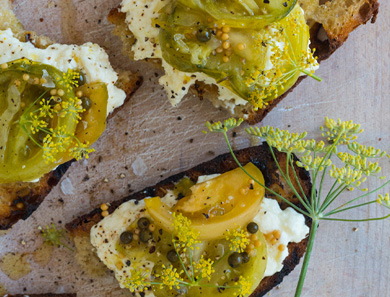 Grilled Breads with Pickled Green Tomatoes
These grilled breads, topped with tangy pickled green tomatoes and a dusting of fennel, are delicious served with cold beers—they're the perfect start to a weekend gathering.
1.  Place a grill pan over a high heat until smoking. Brush the breads on both sides with the olive oil. Working in batches, place the breads on the hot pan and cook on both sides until golden brown and slightly charred.
2.  Place the grilled breads on a board and spread with a dollop of ricotta. Top with a few slices of pickled tomatoes and season with salt and pepper. Drizzle with olive oil and finish with a dusting of fennel pollen.
Originally featured in A Pickling and Canning Guide