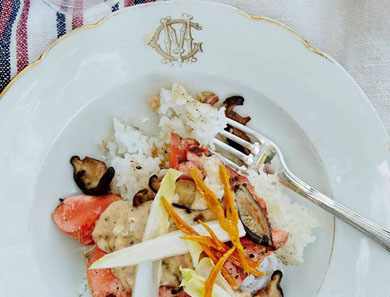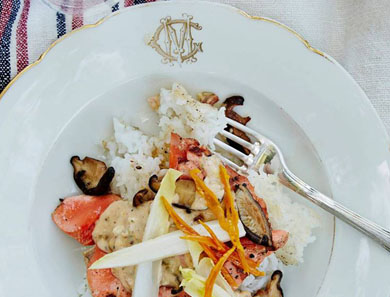 Rice Bowl with Salmon, Endive, Shiitake, and Tasso Rémoulade
This recipe was originally featured in Chef Edward Lee's cookbook, Smoke + Pickles. We tried it out for Cookbook Club #2.
To make the tasso rémoulade:
1. Heat the olive oil in a small sauté pan over medium heat. Add the tasso ham and sauté until crispy, about 3 minutes. Drain on paper towels and let cool.
2. Mix the rémoulade with the tasso ham in a small bowl. Reserve.
To make the marinade:
1. Combine all the ingredients in a small bowl.
To make the topping:
1. Toss the salmon into the marinade, turning to coat, and marinate in the refrigerator for 15 to 20 minutes. Drain the salmon and discard the marinade. Pat the salmon dry on paper towels. Heat a 10-inch skillet over medium-high heat. Add 1 teaspoon of the olive oil, then add the salmon and sauté for 3 to 4 minutes, until nicely caramelized but still pink on the inside. Press it gently—the flesh should bounce back but not flake apart. Transfer the salmon to a warm plate. (We grilled our salmon instead.)
2. Add the remaining teaspoon of olive oil to the pan and heat over medium heat. Add the shiitake mushrooms and soy sauce and cook for 4 to 5 minutes, until the mushrooms are wilted and caramelized.
3. To serve, scoop the rice into your rice bowls. Place the salmon and the shiitakes over the rice. Spoon about a tablespoon of the rémoulade over the salmon in each bowl. Garnish with a few spears of endive and a sprinkle of dried mango and serve immediately with spoons. It is best to mix everything together before enjoying.
Originally featured in The goop Cookbook Club: Smoke & Pickles