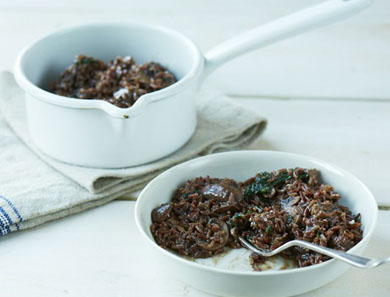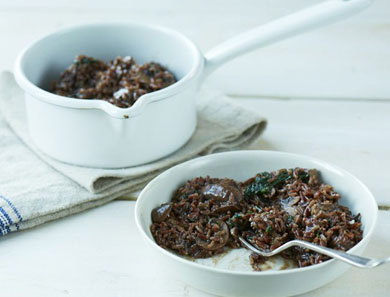 So, we make this with red rice and without wine but call it 'risotto' as the result is just as creamy and sophisticated. It cooks like a pilaf, which means no arduous adding and stirring, making it perfect for a quick and easy weeknight dinner. Skip the cheese to keep it vegan and elimination diet friendly, or add parmesan for extra creaminess.
1. Soak rice in cold water for a few hours before cooking. (If you don't have time, give it a good rinse and proceed).
2. Coat a large pot with olive oil and place over medium high heat. Add onion, season with salt & pepper and cook until translucent, about one minute. Add garlic and cook for another minute, until soft.
3. Add mushrooms, season and cook for about three minutes until soft and slightly browned.
4. Add rice and let cook for about a minute, stirring throughout to mix.
5. Add broth and bring to boil. Reduce heat to medium and let simmer, stirring occasionally, until most of the water is absorbed (you don't want the risotto totally dry at this point). Add spinach, mix to combine and remove from heat. Cover for about three minutes.
6. Uncover, fluff with fork, season with salt, pepper and cheese to your liking. Serve immediately.
Originally featured in One Pan Meals