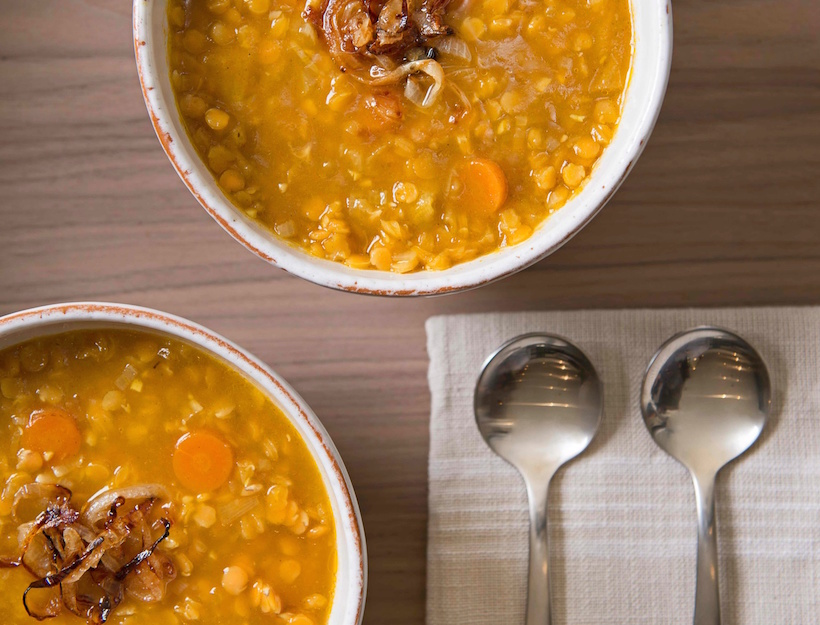 Red Lentil and Caramelized Onion Soup
"High-fiber lentils provide vegetable protein, along with some iron and B vitamins. We love combining these earthy gems with the deep, roast-y, slightly sweet flavor of caramelized onions. This soup will gently warm your stomach and keep you satisfied."
1. Heat a medium-size saucepan over medium-high heat and add 1 tablespoon of olive oil. When it dances, add the shallots, garlic, carrots, turmeric, and cinnamon.
2. Cook until the shallots soften and the mixture becomes aromatic, 3 to 5 minutes.
3. Add the beets and vegetable broth and bring the mixture to a boil. Add the lentils and reduce the heat to a simmer. Season with salt and pepper and continue cooking at a simmer for 15 to 25 minutes, or until the lentils are soft and the vegetables are tender.
4. Prepare the caramelized onions while the soup cooks. If using cardamom pods, crush them (the bottom of a pan works nicely) and remove the seeds.
5. Grind the seeds into a powder with a mortar and pestle.
6. Heat a medium-size saucepan over medium-high heat, add 1 tablespoon of olive oil, and heat until the oil dances. Add the onion, cardamom, and coriander.
7. Keep the heat high so the onions begin to brown, stirring continuously.
8. If the onions start sticking to the pan, add a bit of water. Continue cooking for 10 minutes or until the onions are caramelized and golden brown. Reduce the heat if necessary to keep them from burning. Season with a pinch of salt and pepper.
9. Fill bowls with soup, then top with a tablespoon of onions and serve or simply stir the onions into the soup.
Originally featured in Make-Ahead Soups