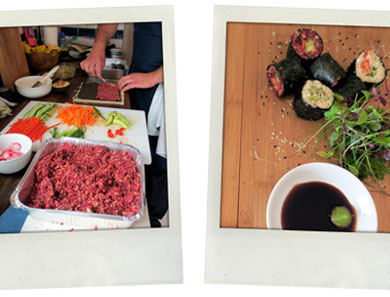 Ground beet, parsnips and cauliflower mimic rice in these raw sushi rolls.
1. In a food processor, pulse the beets, parsnips and cauliflower until it reaches the consistency of rice (or as close as possible).
2. Lay nori flat on bamboo mat or a flat surface. Spread the veggie rice mixture over the nori in a thin, even layer. Add a think layer of veggies to one side and roll tightly. Slice into pieces.
Courtesy of Chef Darryl Pretorius
*This recipe has not been tested by the goop test kitchen.
Originally featured in Cooking in the Raw