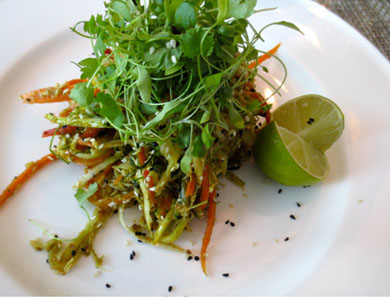 Raw Pad Thai
for salad:
2 carrots, julienned
2 zucchini, julienned
1 red pepper, julienned
2 stalks celery, julienned
1 cup alfalfa sprouts
½ cup dried coconut
for dressing:
1 red chili, deseeded
1 stalk lemongrass
juice of 1 lime
½ cup nama shoyu
½ cup sesame oil
1. For salad: Place all veggies in a large bowl. Sprinkle dried coconut over the veggies.
2. For dressing: Place all dressing ingredients in a blender. Blend until smooth.
3. Pour dressing over the veggies and mix until combine. Divide on plates and serve with lime.
Originally featured in Cooking in the Raw