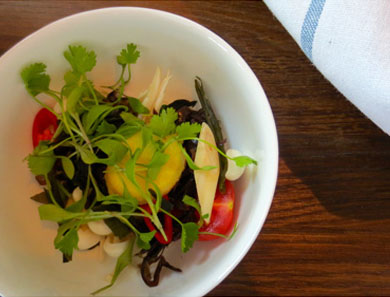 Raw Miso Soup
Even with just a few ingredients, this soup has such an intense, rich flavor.
2 tablespoons soybean miso paste
2 tablespoons nama shoyu
2 cups water
to assemble:
handful of enoki mushrooms
4 grape tomatoes, sliced in half lengthwise
1 stalk lemongrass, sliced into ½ inch pieces
small knob of ginger, peeled and sliced into four thick slices
1 red chili, seeded and sliced thin
handful of wakame seaweed
handful of garlic cress
1. Divide all assembly ingredients between four small bowls.
2. Using a thermometer, heat water in a pan over medium heat to around 100°F. Add in the miso and mix until dissolved. Add nama shoyu. Mix.
3. Pour soup into each bowl, garnish with more cress if desired and serve immediately.
Courtesy of Chef Darryl Pretorius
*This recipe has not been tested by the goop test kitchen
Originally featured in Cooking in the Raw