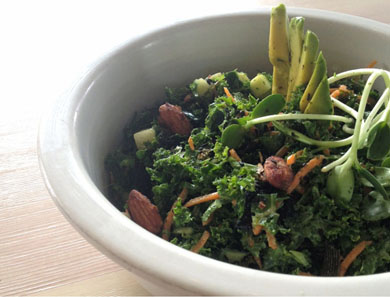 Raw Kale & Seaweed Salad
Otherwise known as 'I Am Pure', this recipe is courtesy of Café Gratitude in LA, who they have a great raw section on their vegan menu.
4 cups lacinato kale, de-spined and chopped finely
1 cup carrots, shredded
1 cup cucumbers, julienned
4 nori sheets, shredded into 1/2 inch pieces
2 large avocados, chopped into 1/4 inch cubes
¼ cup green onions, chopped
¼ cup cilantro, chopped
¼ cup parsley, chopped
for dressing:
¼ cup olive oil
¼ cup tahini paste
2 tablespoons fresh lemon juice
2 cloves of garlic, minced
2 tbsps rice vinegar
½ tbsps nama shoyu (raw soy sauce)
½ tbsp sesame oil
¼ tbsp sea salt (to taste)
1. Mix all dressing ingredients in a blender, blend till smooth.
2. Toss all salad ingredients in large mixing bowl with dressing. The longer you toss the better because you will massage the kale to be very tender.
3. To finish, garnish salad with green onions, sesame seeds and shredded nori sheets.
Recipe courtesy of Café Gratitude
Originally featured in Cooking in the Raw