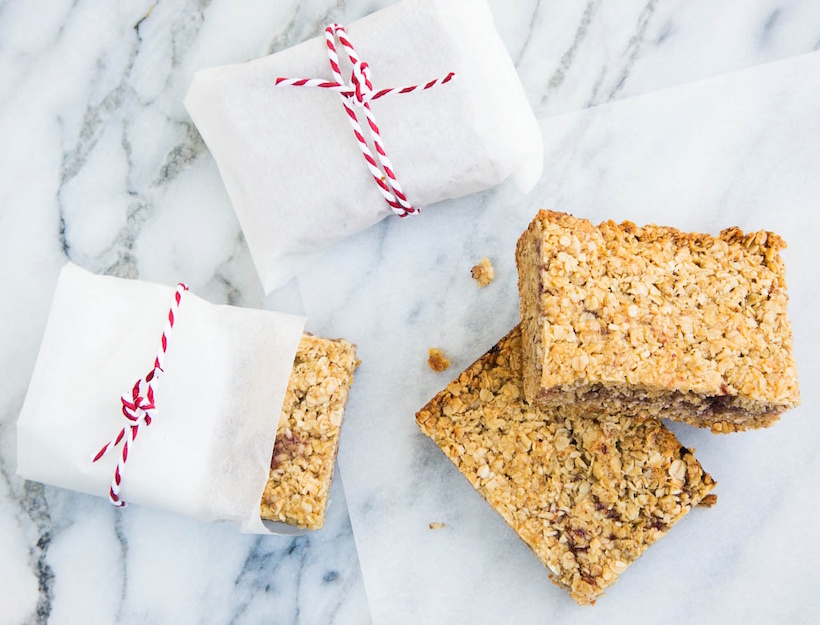 Raspberry & Coconut Flapjacks
Flapjacks are Britain's answer to a granola bar. Slightly chewier and denser than their American counterparts, they make a perfect breakfast treat or on-the-go dessert. Normally made with golden syrup, our version cuts out the refined sugar and replaces it with a combo of brown rice syrup and maple syrup.
1. Preheat the oven to 350.
2. Place butter in small saucepan over medium heat and cook until the solids at the bottom of the pan start to brown and smell nutty. As soon as the butter starts to brown, remove it from the heat and set aside; butter goes very quickly from golden and delicious to burnt and ruined, so watch carefully.
3. While the brown butter cools, combine oats, hazelnut meal, coconut, and salt in a large bowl and mix with a spatula.
4. Pour in brown rice syrup, maple syrup, vanilla extract, and brown butter and stir to combine.
5. Lightly grease a 9-inch x 9-inch baking dish with butter or coconut oil and press half of the oat mixture into the bottom to make an even layer.
6. Use a spatula or spoon to spread over the jam and top with remaining oat mixture, pressing gently to make an even layer.
7. Bake 30-40 minutes, or until edges are crispy and the top is just beginning to brown. Cool completely before slicing.
Originally featured in The Perfect Travel Meal