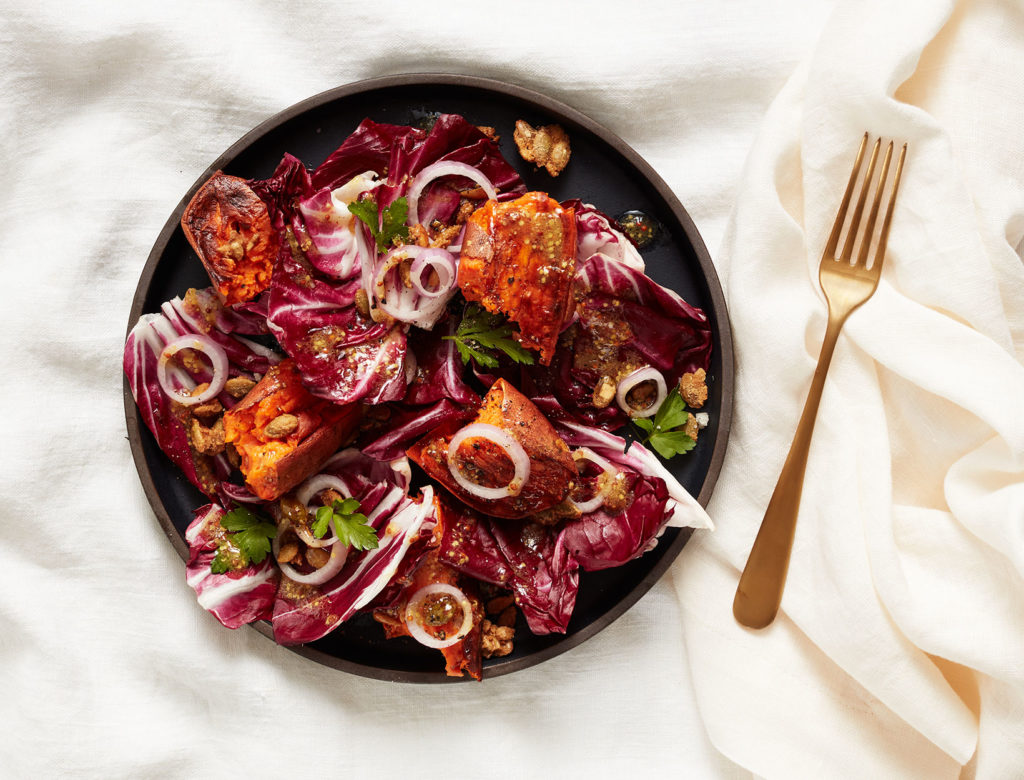 Radicchio and Sweet Potato Salad with Candied Nuts
A fresh salad is a nice respite from all the richness on your Thanksgiving plate. And a bitter lettuce like radicchio pairs so well with another fall favorite: roasted sweet potatoes. We also like the crunch of a candied nut here. We have a great recipe for
candied walnuts from Roberta's that we come back to again and again (we've used all different kinds of nuts), but as queen Ina says, "store-bought is fine." The goal here is to keep it simple, after all.
for the salad:
2 to 3 small or medium sweet potatoes
olive oil
kosher salt
1 head radicchio, roughly torn
1 shallot, thinly sliced into rounds
½ cup candied pecans, walnuts, almonds, or pepitas (homemade or store-bought)
¼ cup parsley leaves
for the dressing:
1 teaspoons grainy Dijon mustard
¼ cup red wine vinegar
½ cup plus 2 tablespoons extra virgin olive oil
kosher salt
cracked black pepper
1. Preheat the oven to 425°F.
2. Slice the sweet potatoes lengthwise, toss with a bit of olive oil and salt, then place cut side down on a sheet tray. Roast for about 30 minutes, until fork-tender.
3. While the potatoes roast, make the dressing. Combine the mustard and vinegar in a small bowl, then slowly stream in the oil, whisking to emulsify. Add a pinch of salt and some pepper and adjust seasoning to taste.
4. Once the potatoes are done, set aside to cool for a few minutes.
5. To plate the salad, scatter the torn radicchio leaves over the plate. Then take the sweet potatoes and tear them into smaller chunks—don't worry, it's supposed to look rustic—and nest them around the lettuce. Drop the thinly sliced shallot rounds, candied nuts, and parsley all over. Drizzle the dressing over everything, leaving a bit to serve on the side. Finish with a pinch of salt and some more pepper.
Originally featured in A Streamlined Thanksgiving Menu