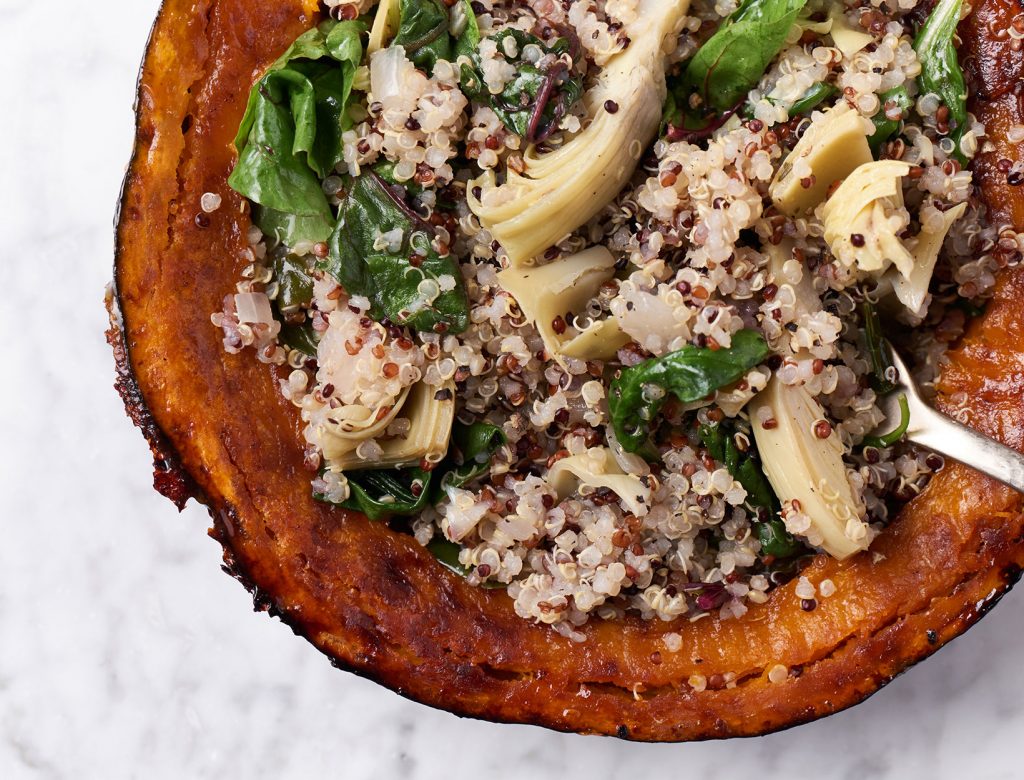 Quinoa-Stuffed Kabocha Squash
This dish is a little different, but it's delicious and simpler to make than it sounds. The bowl is the squash and you can scoop as much or as little as you like onto your plate with the quinoa.
for the quinoa-stuffed kabocha:
1 kabocha squash, sliced in half horizontally and deseeded
1 cup quinoa, rinsed
1¾ cups chicken or vegetable stock
1 cup packed winter greens
½ cup or small jar artichoke hearts
1 small onion, chopped
2 cloves garlic, minced
olive oil
sea salt and pepper
for the anchoïade:
1 shallot, finely chopped
½ clove garlic
3 or 4 anchovy fillets
2 tablespoons olive oil
2 tablespoons white wine vinegar
1. Preheat the oven to 400°F. Drizzle a baking sheet with olive oil. Place the kabocha halves flesh-side down on the baking sheets and roast for about 25 minutes until fork-tender and slightly brown at the edges.
2. Add a healthy drizzle of olive oil to a large saucepan or Dutch oven over medium-high heat. Add the onions and garlic and let cook for a minute until soft and translucent. Add the greens and the artichokes and mix to combine, cooking for another minute until they begin to wilt. Add the stock, the quinoa, and a hearty pinch of salt and bring to a boil. Lower the heat to a simmer. Cover and cook for about 15 minutes until all of the liquid is absorbed (but the quinoa is still wet) and the germs have begun to spiral. Turn off the heat, place a dry paper towel between the pot and the lid, and let sit for at least 5 minutes. Fluff with a fork and season with salt and pepper before serving.
3. Meanwhile, make the anchoïade. Use a large mortar and pestle to grind the shallot, garlic, and anchovies together until they form a paste. Transfer to a mixing bowl and add the vinegar. While whisking, add the olive oil slowly to combine.
4. To serve, scoop the quinoa pilaf into the kabocha halves and drizzle with the anchoïade to your liking.
Originally featured in A Warming Winter Detox