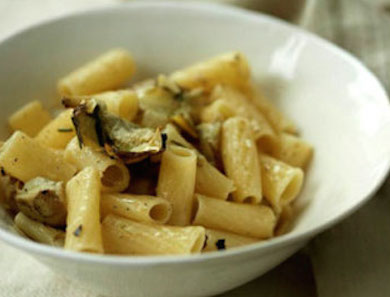 Quinoa Rigatoni with Artichokes and Fried Rosemary
The fried rosemary adds intense flavor, which is rounded out by the creamy artichokes. Add lots of freshly grated Parmesan to this easy (and impressive) dish for entertaining or a quick weeknight meal.
1. Bring a large pot of generously salted water to a rolling boil. Drop in the pasta.
2. Meanwhile, coat the bottom of a large frying pan with olive oil (about 2 tablespoons) and place over medium-high heat. Add the rosemary and fry for a minute in the hot oil to release the flavor. Turn the heat down to medium and add the garlic. Cook until soft and fragrant, about a minute, and then add the artichokes, breaking them up with your fingers while you drop them in. Add about half of the liquid from the jar, season with salt and pepper and stir, cooking for about another minute.
3. When the pasta is al dente, drain, reserving ½ cup of pasta water. Add the water to the pan with the pasta, stir, and grate a lot of Parmesan over the top.
Originally featured in Gluten-Free Pasta