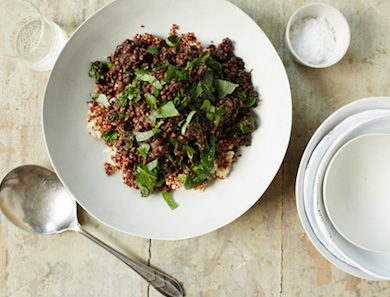 Puy Lentil and Wilted Spinach Bowl
Simple and healthy, this is made really tasty with the herb vinaigrette and will fill you up until dinner.
1. Add a couple glugs of olive oil to the bottom of a large saucepan over medium-high heat. Add the onion, carrot, garlic, bay leaf, and thyme. Cook for 5 minutes, stirring occasionally, until the vegetables become soft and aromatic. Add the lentils and stir with the vegetables, cooking for a minute. Add the water and bring to a boil. Turn the heat down to a simmer and cook for about 40 minutes until the lentils are soft, but still hold their shape.
2. While the lentils are cooking, make the dressing: Add all the ingredients except the olive oil in a food processor. Pulse a few times until roughly processed but not completely smooth. Transfer back to the mixing bowl and slowly drizzle in olive oil while whisking to incorporate.
3. Once the lentils are done, turn off the heat and pour the dressing over the top. Immediately add the spinach and mix until wilted.
4. Place equal amounts of quinoa and brown rice into 2 serving bowls or sealable food containers. Add the lentils and garnish with fresh basil, parsley, and salt and pepper to taste.
Originally featured in Lunch Bowls