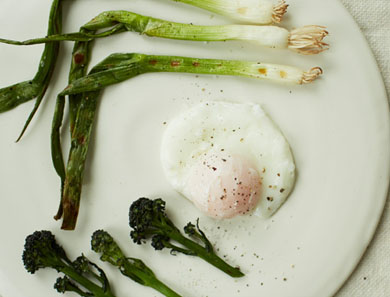 Purple Sprouting Broccoli & Spring Onion with Poached Egg
Serve with a slice of crusty bread for a delicious and light spring breakfast, brunch or lunch.
1. Bring about an inch of water to a boil in the bottom of a pot. Place steam insert or basket on top and add the broccoli. Cover and steam for about 2-3 minutes until slightly softened.
2. Heat a grill pan or a grill to medium high heat. Lightly drizzle the broccoli and spring onions with olive oil. Grill the veggies for about a minute or so on each side, until nicely charred. Divide the veggies onto two plates, leaving some room for the egg. Sprinkle with salt and pepper.
3. Meanwhile, place a few inches of water in a pot and bring to a rolling boil over medium high heat. Add a few pinches of salt and turn down to a simmer. Crack eggs into small ramekins or bowls (this makes them easier to get into the water). Add the white wine vinegar to the boiling water. With a large metal spoon, swirl the water clockwise to get it moving in a circle. While the water is moving, gently pour egg into the middle of the circle. Cook for three minutes. Remove from water and place on a paper-towel-lined plate to drain.
4. Add the egg to the plate with your veggies. Top with sea salt, freshly ground pepper and a sprinkle of lemon. Serve with crusty bread or our Pea Shoot Pesto Toast.
Originally featured in First Spring Harvest