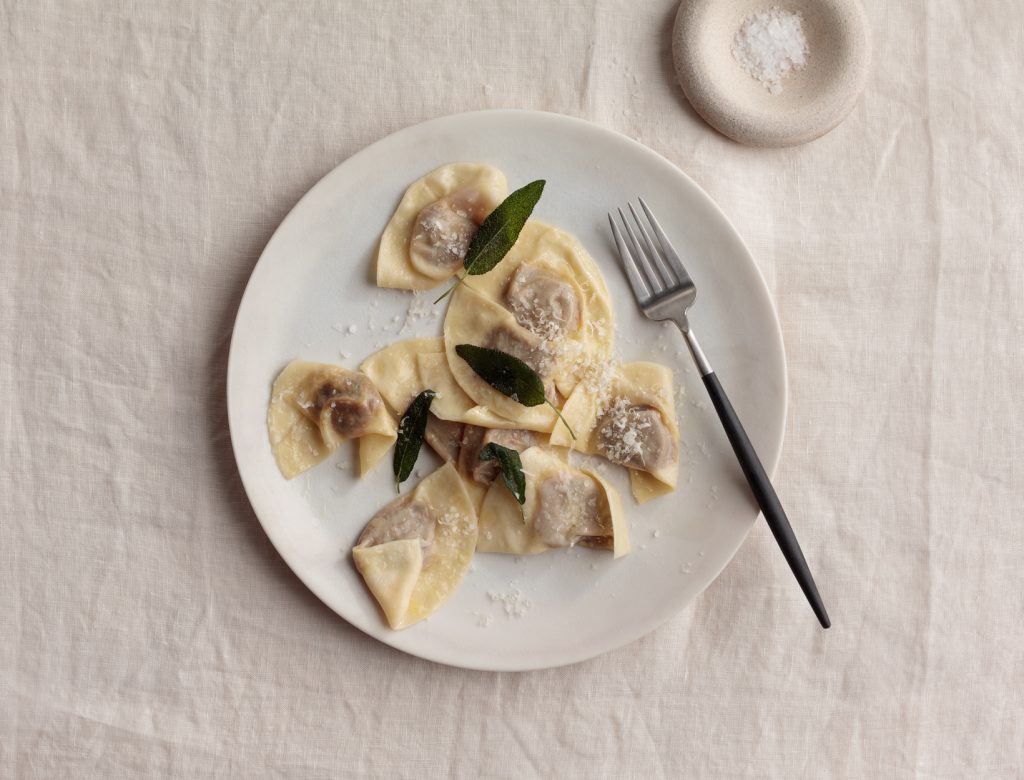 Pumpkin, Toasted Walnut, and Sage Agnolotti
These agnolotti are like biting into fall. The warm, slightly sweet flavor of the pumpkin contrasts with savory garlic, herbaceous sage, and rich butter to make a (heavenly) classic combination.
1. In a large saucepan over medium heat, toast walnuts until fragrant (4 to 6 minutes), then remove from pan and set aside. In the same saucepan, melt 2 tablespoons of butter with the sage, along with 2 cloves of garlic, and cook until the butter begins to brown. Then add pumpkin purée to the brown butter mixture and let simmer for 10 minutes, stirring continuously. Remove from heat, and in a medium bowl, combine pumpkin-brown-butter mixture with toasted walnuts. Let cool before filling pasta dough.
2. Attach your pasta machine to the edge of a clean, long work surface. Divide the dough into 2 baseball-size balls. Flatten them slightly with your hand and dust them lightly with flour. Set the pasta machine to the widest setting and feed 1 ball of dough into it, 4 or 5 times in a row. Adjust the setting to the next-widest, and feed the dough through 3 or 4 times. If the pasta cracks along the side, fold the cracked edge over and feed the sheet through the machine again to smooth it out. Continue rolling out and changing setting until you've rolled the dough to setting 5 (at this point the dough should be pretty thin).
3. To form the agnolotti, drop heaping teaspoons of filling down 1 side of each pasta sheet at 3-inch intervals. Fold the pasta over the filling, pressing the dough flat between the lumps of filling. Using a pastry cutter, cut half-moons, using the fold as the flat side of the moon.
4. Drop the agnolotti into salted boiling water and simmer rapidly until tender.
5. In medium saucepan, combine the remaining butter and garlic. Cook until butter starts to brown, 5 to 8 minutes.
6. Drizzle sauce over cooked agnolotti and finish with grated Parmesan.
Originally featured in Homemade Tortellini, Ravioli, and Agnolotti: Easier than You Think