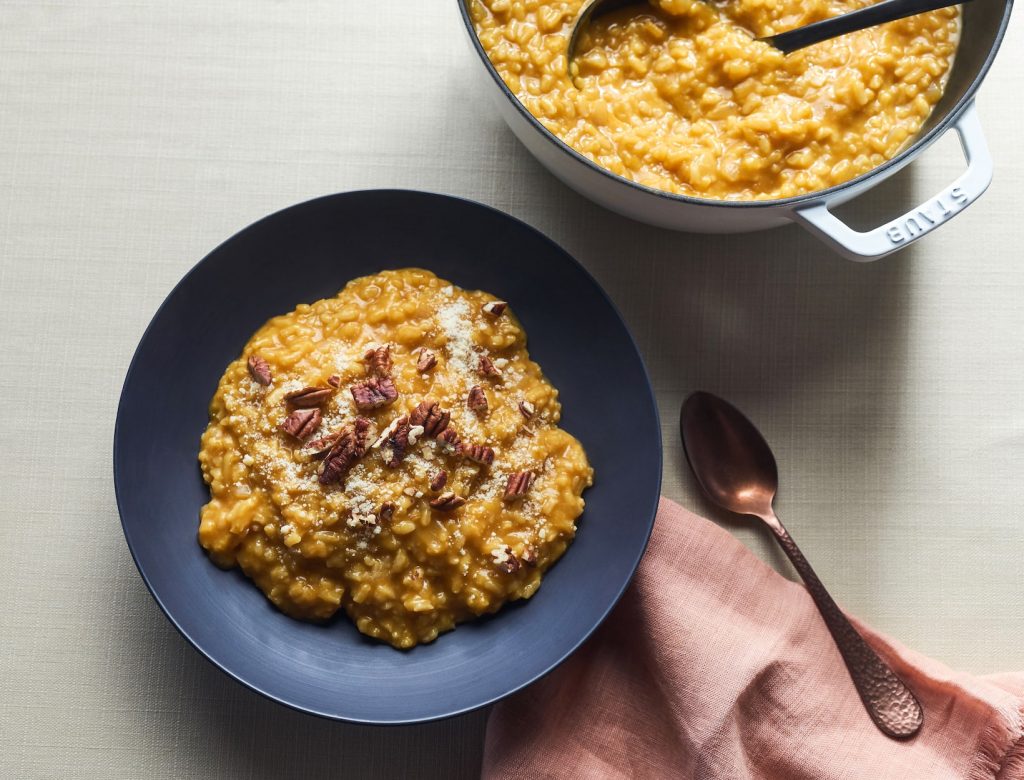 Pumpkin Risotto
Just when we thought we'd reached our threshold for pumpkin-flavored everything, this risotto made us believers again. The savory combination of onions, wine, pumpkin, and Parmesan is beyond. For an added treat, Virginie suggests garnishing with maple-glazed pecans if you can find them.
2 tablespoons olive oil
1½ cups pumpkin purée
1 medium white onion, chopped
¾ cup dry wine
1½ teaspoons freshly grated nutmeg
1 teaspoon freshly ground white pepper
1 teaspoon salt
5 to 6 cups vegetable stock
1½ cups arborio rice
½ cup freshly grated Parmesan, plus more for serving
½ cup pecans, roasted
1. In a medium saucepan, bring the vegetable stock for the risotto to a boil over moderate heat. Reduce the heat to low and keep the stock hot.
2. In a medium saucepan, heat 2 tablespoons olive oil and the onion. Add the rice and cook over medium heat, stirring with a wooden spoon, until the onions are translucent, about 3 minutes. Add the wine and stir for another minute. Immediately stir in 1 cup of the hot stock and cook, stirring constantly, until all of the liquid has been absorbed, about 2 minutes.
3. Reduce the heat to moderate and add 3 more cups of the hot stock, 1 cup at a time, stirring and cooking until each cup is almost absorbed before adding the next, about 15 minutes. Stir in the pumpkin purée. Continue adding the remaining 2 cups stock, 1 cup at a time, stirring and cooking as above, until the rice is tender, about 10 minutes longer. The risotto will be quite loose.
4. Spoon the risotto into 6 warmed soup plates, sprinkle with Parmesan and pecans, and serve immediately.
Originally featured in A Three-Course Vegetarian Menu to Satisfy Any Carnivore