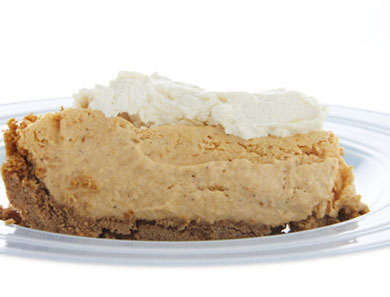 Pumpkin Ice Cream Pie with Maple Whipped Cream
A cool alternative (literally) to traditional pumpkin pie using vanilla ice cream, good canned pumpkin and lots of wonderful spices.
1. Preheat the oven to 350º F.
2. Combine the graham cracker crumbs, sugar and melted butter in a pie pan (why bother washing a mixing bowl?).
3. Mix together with your fingers and then press evenly to cover the bottom and sides of the pan. It helps to press the mixture with the bottom of a small measuring cup.
4. Bake for 10 minutes or until light brown. Let cool while you prepare the whipped cream and filling.
5. In a large bowl, beat together the ice cream, pumpkin and spices.
6. Spread evenly into the cooled pie shell and stick in the freezer for at least 3 hours before serving.
7. When ready to serve, spread the top with maple whipped cream.
Originally featured in Thanksgiving Recipes