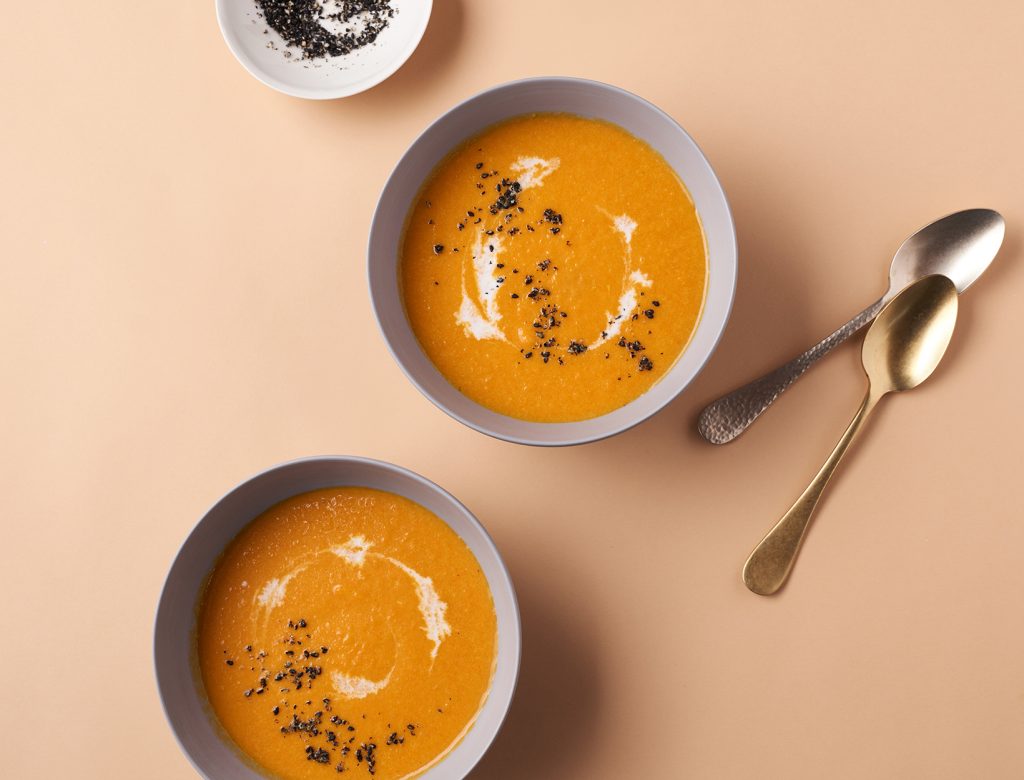 Probiotic Miso Ginger Carrot Soup with Black Sesame Dust
"Probiotics are the most commonly associated word with gut health, and for good reason: Having a good balance of bacteria is essential for a healthy gut, and thus an overall great state of general health. This soup gets its probiotics from miso, a Japanese paste made by fermenting soybeans that chefs love for the rich, savory flavor it adds to dishes. Because probiotics are heat sensitive, in this recipe the paste gets blended in at the very end. This soup has all the sweet comfort of the carrot and ginger, but with a deeply satisfying and elegant complexity."
2 tablespoons coconut oil
1 medium yellow onion, peeled and chopped
3 cups vegetable broth
1 pound carrots, peeled and chopped
2 tablespoons fresh ginger, peeled and grated
2 teaspoons tamari
¼ teaspoon sea salt
3 tablespoons miso paste
½ cup coconut milk + more for garnish
2 teaspoons apple cider vinegar
2 tablespoons black sesame seeds, crushed slightly in a mortar and pestle or just with the bottom of a jar
1. In a large pot over medium heat, melt the coconut oil. Add the onions and cook until transparent, then add the broth, carrots, ginger, tamari, and salt. Cover and bring to a boil, then reduce heat to simmer.
2. Cook until carrots are soft when pierced with fork, about 5 minutes. Let cool for about 10 minutes (until it's hot but not uncomfortable to touch), then add to blender with coconut milk, apple cider vinegar, and miso paste.
3. Blend until very creamy; add additional salt to taste.
4. To serve, swirl through additional coconut milk, if desired, then dust with crushed sesame seeds.
Originally featured in Three Nourishing Fall Soups (That Are Also Good for Your Gut)